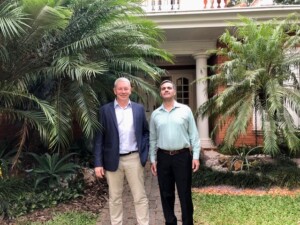 We're excited to announce the opening of our newest office in Latin America, in Asunción, the capital of Paraguay. This move now enables the Group to provide leading market entry and back-office services in Paraguay's developing commercial environment.
This opening coincides with the Group's fifth anniversary, where our country offices across Latin America celebrated Biz Latin Hub's journey with teams and colleagues.
It's also been approximately one year since Biz Latin Hub expanded to Australia, another impressive feat for the Group and our first expansion outside of Latin America.
"We're very pleased with Biz Latin Hub's increasing momentum and the popularity of our services to foreign companies expanding into Latin America," says Craig Dempsey, Managing Director of Biz Latin Hub.
"In the last year alone, we've expanded our services to Australia, New Zealand and Uruguay, received a number of awards recognising our teams for business excellence, celebrated a milestone birthday, and have now opened in Paraguay. We're excited to take this success with us into the new year."
Market entry and back-office services in Paraguay
As a market leader in the region for supporting foreign businesses enter Latin American markets, Biz Latin Hub is now improving foreign investors' access to Paraguay's exciting economy.
In Paraguay, we support expanding companies with the following suite of services, personalized appropriately to the needs of your company:
Accounting and taxation

Commercial representation

Due diligence

Legal services

Visa processing

Recruitment and hiring as a professional employer organization (PEO).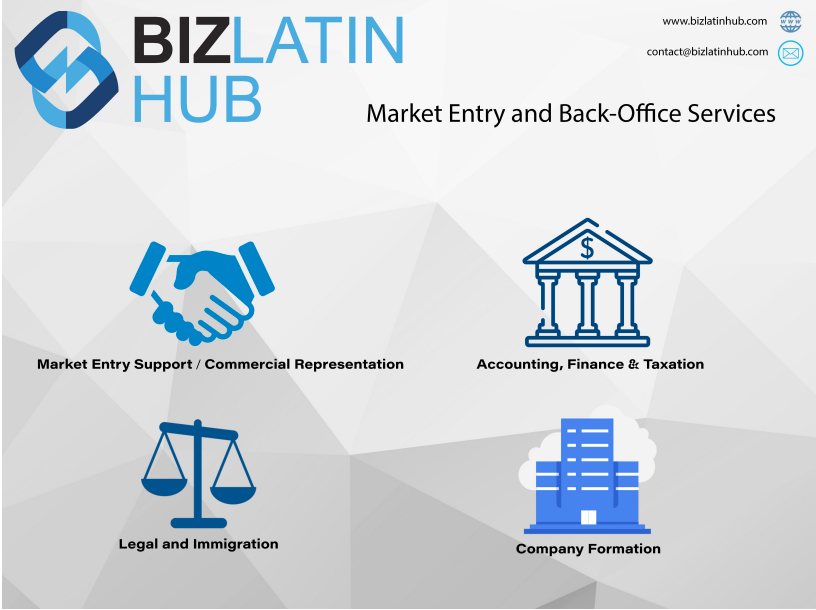 Paraguay offers exciting economic opportunities that until now have largely gone unnoticed. We're here to help foreign companies make the most of those opportunities with our professional market entry and back-office services in Paraguay.
Doing Business in Latin America in 2020
Biz Latin Hub works hard to promote the opportunities to do business in Latin America, and we expect 2020 will be another impressive year for the region's top performers.
Though somewhat overshadowed by other developing regions and emerging global powers over the last few decades, global attention is turning now towards Latin America, which according to some experts is now considered to be growing at a faster rate than Asia.
Foreign multinational companies, have noticed this, and different players in the region have done well to promote their market viability by undertaking a number of policy and security reforms, changing perceptions and boosting business confidence.
Making local and international connections
Biz Latin Hub is also bridging the cultural and linguistic gap for foreign companies doing business in Latin America.
"Besides what we can offer as legal and accounting experts, we're also a multilingual team that puts non-Spanish speakers at ease. We offer you expert guidance on corporate compliance matters, and help you communicate with local authorities to ensure you start off on the right foot in your venture."
As members of various organizations dedicated to facilitating greater international connections, Biz Latin Hub promotes greater people-to-people links among professionals in Latin America and the South Pacific.
We're also aware of our responsibility to support international and local communities around us. This year, we supported a number of community and government initiatives, including the first ever Australia-Colombia Policy Dialogue, 2019 Panamerican Karate Championships, the Rugby4Peace programme, and Kimberley Clark recycling programme.
Make us your provider for market entry and back-office services in Paraguay
We welcome the opportunity to support foreign business with our professional market entry and back-office services in Paraguay and Latin America.
Our multilingual team of local and expatriate professionals provide expert guidance and support in company formation, accounting and tax, human resources (PEO) and other areas of corporate compliance.
For more information about how our market entry and back-office services can be customized for your business needs, contact us today here at Biz Latin Hub. Reach out to us and share in our success in this vibrant, diverse region.
Learn more about our team of experts, and check out this short video on the services we provide.