Ecuador's steadily growing economy has many burgeoning industries to offer long-term investment opportunities. Businesses looking to establish a Latin American presence should consider the booming sectors and disruptive technology emerging in the country.
Like other countries in the region, Ecuador is discovering its own economic strength in new areas. Its government has set an ambitious plan to boost mining activity to double its current value by 2021. Ecuador is now luring investors in with a new mining policy that lifts a historical taboo on the industry.
Background: mining in Ecuador
Though its neighbors possess well-travelled paths for mining exploration, Ecuador is a new entrant into this industry. This is due to a government decision in 2008 to instate a moratorium on mining. Former President Rafael Correa acted against the mining industry due to regulation issues, leaving Ecuador's rich reserves untouched for several years.
Experts expect the country's undiscovered natural resources are significant. Ecuador is said to possess valuable deposits of iron ore, silver, and antimony. Importantly, though, the industry is most excited about its impressive potential for copper and gold exploration.
Investors have however been deterred from moving into the country. Fiscally shaky policies on mining previously outlined the government's right to 50% of a company's benefits earned from mining activities. It was not unusual for companies to incur significant costs before they had recovered their investment.
With a government now open to nurturing a sustainable sector, barriers are being lifted on mining in Ecuador. Ecuador's government expects this will greatly boost the nation's economy to continue its positive growth streak.
Introducing the Public Mining Policy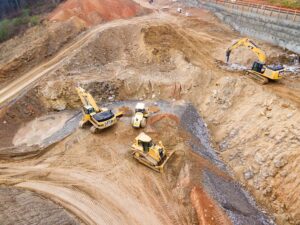 This new policy focuses on supporting large-scale mining operations and investments. It also aims to put a stop to illegal mining, to bring more fairness to the industry and make investors feel more secure.
Vice President of Ecuador Otto Sonnenholzner, and Minister of Energy and Non-renewable Natural Resources Carlos Pérez, presented the policy in the Zamora Chinchipe province in June 2019. The officials presented the policy at the site of Canadian company Lundin Gold's Fruta del Norte gold project. This project is currently under construction, and is about 50% complete. It presents a landmark example of potential success in Ecuadorian mining borne of foreign investment.
The Public Mining Policy lays out 7 strategic objectives and 7 public policies with the goal to:
Boost investment

Increase production in mining

Impose requirements for environmentally and socially sustainable mining

Build a robust legal framework and national administrative processes for the sector.
Investor confidence was previously rocked by uneconomical regulations. This policy recognises that Ecuador needs to improve regulation and control of the sector in order for it to flourish.
Bringing investment to the mining industry
With the new policy in place and a clear steer from government, the industry is stirring back to life. Government officials predict that before the end of the year, large mining companies will be conducting their first exports. The country's treasury estimates around US$836 million dollars will be generated over the next two years from taxes, royalties, patents and revenues. President Lenín Moreno expects mining to represent 4% of Ecuador's GDP by 2021.
Improved confidence for investors is hedged by this new policy's governmental responsibility to curb illegal mining. Specific authorities are now charged with strengthening the national mining development plan within 6 months. This updated plan must include strategies to eliminate unregulated mining and penalties for those caught exploiting mineral resources illegally.
Mining in Ecuador – Sustainability and development requirements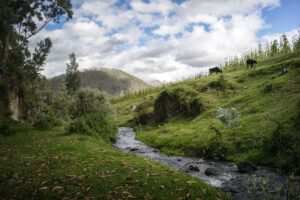 Ecuador recognizes the need to develop a sustainable industry, if it is to provide long-term benefits to its economy. The Public Mining Policy sets certain social, environmental, and safety standards for authorized mining projects to follow. These will be further reinforced by an update to the industry's auditing and regulatory procedures. Ecuador's indigenous communities also come into this mix; consideration must be given to groups residing in areas targeted for mining. Those communities are also a driving force behind the need for sustainable mining practice.
The government must establish and reinforce targets for reviewing mining regulations, and integrate them with its sustainability agenda. Additionally, Ecuador's goals for economic development, research and development, management, and administration play a part in fostering a well-integrated and responsible mining industry.
Is a referendum on the way?
Environmental awareness grows in mining industries worldwide. Ecuador is no exception. While the industry is being brought back to life, concerned groups and agricultural communities consider pursuing a referendum on mining.
As Ecuador's Latin American counterparts can demonstrate, mining brings in significant revenue for resource-rich countries. The world's major miners are chasing sustainable practice and simultaneously balancing strong agricultural economies. Australia and Peru are good examples of this.
Though undecided, a referendum could put a spanner in the works for Ecuador's tight 2021 timeline for doubling investment. However, a comprehensively-regulated and sustainable approach could see the country provide valuable resources to the rest of the world and preserve its natural environment.
Invest and do business in Ecuador
The Moreno government is expecting to see investment of US$4.6 billion into the country's mining industry over the next four years. Officials look towards mining multinationals such as Junefield, Lundin Gold, EcuaCorriente, INV, SolGold, BHP and China Explorcobres to make the first preliminary moves into the market.
Don't wait for major investors to snap up all of Ecuador's prime mining estate. Early movers into the industry have a resource-abundant expanse to choose from. Government-backed initiatives will ensure those setting up in the country have the support they need for long-term success. Large-scale exporters will be among the first to deliver Ecuador's natural minerals to the rest of the world since 2008.
Contact us to get started with your business in Ecuador
Ecuador is an increasingly attractive country in Latin America to invest and do business. As the government demonstrates its support for foreign investment, local opportunities for foreign companies are more accessible and fruitful.
Nevertheless, setting up a business in Ecuador requires attention to detail and compliance with rigid legal and financial standards. Biz Latin Hub provides a range of tailored business solutions to foreign investors looking to work in Latin America.
Get in touch with our professionals dedicated to delivering quality advice and business compliance in Ecuador. Contact our Ecuador team today for help with your international expansion.
The information provided here within should not be construed as formal guidance or advice. Please consult a professional for your specific situation. Information provided is for informative purposes only and may not capture all pertinent laws, standards, and best practices. The regulatory landscape is continually evolving; information mentioned may be outdated and/or could undergo changes. The interpretations presented are not official. Some sections are based on the interpretations or views of relevant authorities, but we cannot ensure that these perspectives will be supported in all professional settings.