New Zealand ratified the Comprehensive and Progressive Trans-Pacific Partnership (CPTPP) in March 2018 and it came into force in December 2018.
Since then, the trade numbers have shown a promising start to the agreement. NZ beef exporters have become significantly more competitive in Japan, thanks to tariff reductions. Beef exports to Japan tripled in January 2019, compared to one year earlier. Cheese exports bound for Mexico have doubled. What other opportunities lie in the Latin American nation? Given Mexico is New Zealand's largest trade partner in the region, the agreement provides exciting potential for further trade.
Biz Latin Hub had the opportunity to speak with two members of the Mexico New Zealand Trade and Enterprise office. Matheus Terentin, Business Development Manager and Market Analyst for Latin America, along with Chris Lijzenga, Market Research Intern, shared some of their research on the CPTPP and its effects on Mexico-New Zealand trade relationship with Biz Latin Hub.
Why should New Zealand exporters take note of Mexico? Is it a viable trading destination for New Zealand businesses?
NZTE: Mexico is New Zealand's biggest trading partner in Latin America and the twenty-first biggest globally. As a result of its size, growing middle class, and macroeconomic stability, Mexico is one of the most attractive and competitive countries in which to invest in the Americas and an ideal platform to access neighbouring economies. Additionally, the country is ranked the easiest country to do business in Latin America, and its high and medium-income earners have a high level of receptiveness to foreign goods and services.
How will the CPTPP impact the trading relationship between New Zealand and Mexico?
NZTE: Recently, the two countries signed their first trade agreement, which will improve market access for New Zealand companies doing business in the Mexican market (and vice-versa). Being a comprehensive trade agreement, the benefits from CPTPP go beyond tariff reductions and include greater transparency, protection, and predictability for the companies accessing other markets that are part of the agreement.
What are the expected tariff savings due to the trade agreement?
NZTE: New Zealand's Ministry of Foreign Affairs and Trade estimates that the agreement will result in an estimated NZ$3.1 million in annual tariff savings immediately, rising to NZ$6.6 million once the tariff reductions are complete. This will benefit New Zealand exporters and Mexican consumers, who will be able to access New Zealand products at better prices. The benefits for Mexican companies, who exported US$175.75 million worth of goods to NZ in 2018, are also large.
What food and beverage products will benefit from tariff removal or reductions? And, which products have the most market potential in Mexico?
NZTE: The agreement envisions the elimination of all tariffs over time, with the exception of certain dairy products, where zero tariffs will be achieved only under certain quotas. Among the New Zealand products with the most potential in the Mexican market, and that had their tariffs already reduced there are: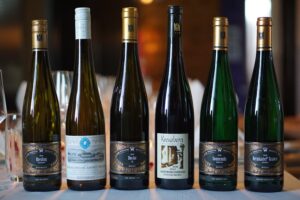 Infant Milk Formulas

, which will have its tariffs reduced by 1% annually

Food Preparations

, which had its tariffs completely eliminated

Frozen and fresh bovine

and bovine and ovine meat

Fresh apples, that had its tariffs reduced from 20% to
Wines:

Sparkling had its 20% tariff eliminated immediately
Wines above US$5.00 (FOB) had its 20% tariff already reduced to 6.6% and will reach 0% in 2020
Wines above US$5.00 (FOB) had its 20% tariff already reduced to 6.6% and will reach 0% in 2020
Wines below US$5.00 (FOB) had its 20% tariff already reduced to 16% and will further reduce by 2% annually

Rock lobster will have its 20% tariff already reduced to 16% and will further reduce by 2% annually
Pacific Salmon (frozen or smoked), which includes New Zealand's premium King Salmon, had its 20% tariff immediately eliminated
Other seafood, as green mussels, hake, and cod, also had its tariffs eliminated
Honey, which includes Manuka honey, had its 20% tariff eliminated
Does the agreement cover non-food products?
NZTE: Yes there are several other categories, including New Zealand-made machinery and technology, which also had its tariffs either reduced or eliminated. Agricultural technology including water management, horticulture and dairy technological solutions, had its tariffs either eliminated or reduced. Mining technology including hardware and software used in the mining sector are also positively affected by the agreement.
New Zealand is among the world's most creative nations (3rd) and is recognized for the development of smart technological solutions in many sectors, including dairy and horticultural sector technologies, mining and water management solutions and, finally, retail and energy sector developments. The agreement will facilitate access to technology developed in New Zealand, and help Mexican producers to increase their productivity. The same is valid for New Zealanders that will have greater access to goods and machines manufactured in Mexico.
Are there opportunities for New Zealand firms to service the Mexican public sector?
NZTE: Generally speaking, the agreement will give New Zealand companies an opportunity to compete for government bids in Mexico on an equal footing with local suppliers. New Zealand companies currently operate in the country ranked as the least corrupt country in the world, and the changes made by the agreement is significant to those looking into the relatively large public procurement market.
Does the CPTPP help to facilitate business people travelling between New Zealand and Mexico to explore the market opportunities?
NZTE: The changes that facilitate the transit of business people between the countries is also an important aspect of the agreement, as it will facilitate first-person experiences in markets, allowing companies to get closer to their potential buyers and final consumers.
Is there a focus on creating a deeper cultural connection between Mexico and New Zealand?
NZTE: Greater integration between the two countries will benefit Mexicans and New Zealanders alike. These are two civilizations split by a single ocean, with a number of overlapping interests that includes the development of the two countries and an overarching commitment to being good for the world.
Biz Latin Hub can help you with doing business in Mexico
At Biz Latin Hub, we provide integrated market entry and back-office services throughout Latin America and the Caribbean, with offices in Mexico, as well as over a dozen other major cities in the region. We also have trusted partners in many other markets.
Our unrivalled reach means we are ideally placed to support multi-jurisdiction market entries and cross-border operations.
As well as knowledge about hiring and recruitment outsourcing in Mexico, our portfolio of services include hiring & PEO, accounting & taxation, company formation, bank account opening, and corporate legal services.
Contact us today to find out more about how we can assist you in finding top talent, or otherwise doing business in Latin America and the Caribbean.
If this article on CPTPP trade opportunities was of interest to you, check out the rest of our coverage of the region. Or read about our team and expert authors.