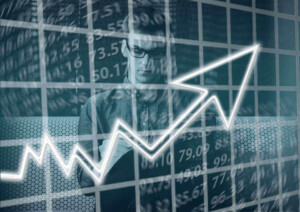 For as many reasons as there are to visit Peru, there are to establish a business here. However, if you are not aware of the incorporation process for a legal entity in Peru and/or do not have a local partner to work with, it will be difficult to get your business up and running. 
In saying that, establishing a Limited Liability Company (LLC) in Peru is easier than you might think. Our team of corporate lawyers have written a brief summary of the incorporation process in Peru.
Keep reading to learn more. 
Summary – Why Incorporate a Business in Peru?
Before we get into the how let's look at the why's of incorporating a business in Peru. Below you will find several reasons as to why so many people are setting-up operations in Peru. 
Fast Growing Economy
Peru boasts one of the most rapidly growing economies throughout Latin America. You can take advantage of the booming economy by establishing your own business here.
Stable Government
The instability that can be seen in some Latin American countries often causes businesses to look towards other jurisdictions. However, Peru has a stable government and has for several years; providing a great commercial environment to start a business.
Speed of Incorporation
The legal entity incorporation process can take as little as 20 business days if you are physically in the country. If you need to appoint a representative to take care of things for you, it will take an additional 20 days.
Ease of Trade
Peru has 27 regional trade agreements (RTA) with countries around the world, making it painless and easy to import and export goods. 
Simple Visa Procedure
The Peruvian government has made it easy to do business through a simplified visa procurement process. It's especially easy for foreign investors to get a permanent visa.
How to Incorporate Your Business in Peru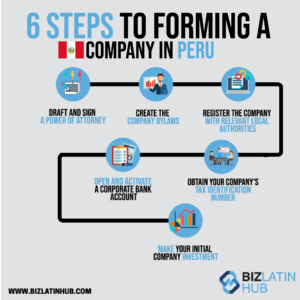 The following steps will describe the incorporation process for a legal entity in Peru. In most cases, it's best to partner with a local lawyer.
Keep in mind that while these steps are accurate at the time of this writing, they are subject to change. This is another reason to work with a local partner who will keep up-to-date on policy changes.
Step 1: Decide Who's Going to Register the Business
You can register your corporation yourself, or go through a representative. 
If you'd rather have someone else to take care of the proceedings for you, then you'll have to appoint a representative. You can do this with a Power of Attorney ('Poder') which will then need to be authorized by the Ministry of Foreign Affairs of Peru.
Step 2: Prepare the Minutes of Incorporation
This document is the Incorporation Contract of your company, and will need to include the following information:
Identifying information about partners
Purpose of company
Company By-laws
Description of leadership positions
This document will then need to be verified and signed by a lawyer.
Step 3: Open a Bank Account
There are several local Peruvian banks to choose from when setting up your account. Take a little time to look at each one to decide which is best for you and your business.
What matters most is that when you open the account, it's done in the name of the company rather than your own name. This will help establish the legitimacy of your business.
Step 4: Convert Your Minutes
The next thing you need to do is send your Minutes of Incorporation to a Notary Public. They will convert them into a public deed, which you need for the next step. They will also prepare any other necessary documents.
Step 5: Register Your Company
The National Superintendence of Public Registries (SUNARP) needs your public deed in order to register. At that time, you will need to provide the following:
Completed SUNARP form
Rights of Registration payment
Documents from the Notary Public
The amount that you will pay to register your business will depend on the amount of invested capital in the business. Prepare to pay 0.3% of the total invested capital along with some administration fees.
Step 6: Register Taxpayer Status
The next thing you'll need to do is register to pay business taxes. You do this by presenting documents to the National Superintendence of Tax Administration (SUNAT).
To do this, you'll need the following documents:
Testimony of Company Incorporation from SUNARP
Utility bill from the legal business address
Completed RUC Registration form (given to you by SUNAT)
Proof of your identity
Proof that you own or are legally renting the business property
Step 7: Formalize Statutory Books
You'll now head back to the Notary Public to have your books and other records legalized. Once you've covered these fees, you'll be ready for the final step.
Step 8: Get Municipal Operational License
This final step will provide you with everything you need to legally operate a business in Peru. To get your operation permit, you'll need to go to the nearest municipality or district council.
The following documents will be needed:
Registration Certificate from the company
Distribution plan
Proof of ownership or leasing of property
You'll also need to pay fees at this point to register. However, the fees vary from place to place, so you'll have to find out how much they charge where your business is located.
More Information on Incorporating a Company in Peru?
If you have any questions about the incorporation process for a legal entity in Peru, or you are simply looking for some more information, then we'd be more than happy to help you.
Our team in Peru is dedicated to helping business execute their commercial plans in the region. Our group of legal experts will be able to get you on the right path to starting your new business in Peru venture through the provision of tailored business services. 
Contact us now for more information.