Not many countries can produce precious gems, offering those that do lucrative business opportunities. Australia is one of the few in the world that has large, natural reserves of valuable gemstones, and is particularly known for its world-famous opals. The scarcity of supply in the global market, coupled with Australia's wide range of gemstone types, quality, and size, attracts many foreign business people and investors to the country's market.
We explore three of the most precious Gems in Australia and the industries surrounding their production.
Precious Gems in Australia – Australia's famous opals
The opal is one of the most common and demanded gemstones in the world.
Australia has had somewhat of a monopoly on the market since the 1930s, supplying 90% of the global opal market. In 2018 alone, the country's opal market valuation surpassed an astonishing AU$16 million. Given its overwhelming natural supply in the province of South Australia, it is no surprise that nearly all of the country's opals come from this specific region. With so much supply in such a concentrated area, this helps investors and businesses more easily hone in on substantial digs and finds.
The country's biggest buyers typically come from Asia, with countries like China and India being the biggest spenders on the precious gemstone. Demand in these countries is so high, buyers are willing to pay up to AU$12,000 per carat. While not nearly as extreme, the market in the US is yet another source of demand for Australian opals.
Where are Australia's opals?
The Mintabie Precious Stone Field, the country's newest opal mine, is located in South Australia. It is home to one of the largest mines of opals in the country, as Australia's Department of Energy and Mining estimates that there is AU$ 4 billion worth of opals here. Miners and investors are increasingly exploring this area for the treasures and reserves experts say exist.
Additionally, another Australian hub for opal mining is Coober Pedy. Also located in South Australia, this is where most miners and investors have found success for years. Total, the town has a staggering 70 opal 'fields.' With abundant access to opals in these fields, Coober Pedy is one of the world's leading producers of white opals specifically. Moreover, it is officially the largest opal mining zone worldwide.
Getting to know Coober Pedy
Australia's Coober Pedy is considered one of the most unique places in the world. This is due to its semi-subterranean town. The town is located in the post-apocalyptic landscape of the desert. Opals were discovered in this area over 100 years ago. This area has since drawn people from all over the world to find a fortune in opals and other gems. Currently, Cooper supplies the majority of the world's opals, despite the large mining companies in this area. Locals use a variety of mining machines to excavate their own small plots. People and investors who can't afford large mining machines use tools to sift through the mounds to look for precious opals and other gems.
Sapphires are a longstanding staple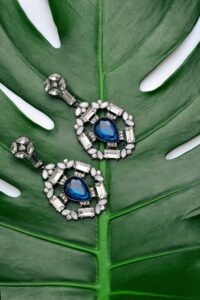 Sapphire was first discovered in Australia in the middle of the 19th century, but was not formally mined for commercial reasons until the early 20th century. Fast forward to the mid-1980s, and Australia managed to become the largest producer of the gem in the world, supplying nearly 80% of the industry's sapphires. Most of the sapphire in Australia is blue, or very dark with a greenish color. This kind of sapphire is only found in Australia. Again, this amplifies the profits felt by Australian sapphire businesses as global demand for this prestigious gem increases.
In terms of extracting the actual gem, miners typically find success in deposits like Anakie and Lava Plains, both located in Queensland. Few mines are located in New England and New South Wales provinces, but those that are there are generally successful as well.
Much like the opal market, China is the dominating buyer in the Australian sapphire industry. The lure for the South Pacific gem comes from the rich, deep blue color and clarity the stone has. It is unlike any other sapphire found in the world. Moreover, a growing middle class in China is leading to a larger population buying luxury items. As a result, as Chinese demand increases, the overall valuation of Australia's sapphire market increases as well.
Australia's rare gemstone
Finally, Australia just recently discovered an extremely valuable mineral in South Australia which can be used as a precious gemstone. Musgravite ranges in color from grayish green to purple hues. Classified as 'extremely rare,' the gemstone wasn't discovered until the 1960s in South Australia. As far as experts know, the only place Musgravite can be found in Australia is in Musgrave Ranges. This mineral-rich mountain range is located in the province of South Australia.
Estimations on current market size are difficult to predict because of the rarity of the gem. However, geologists and experts in the field have noted that sales for the precious gemstone reach an astonishing AU$35,000 per carat. Investors and business people stand to gain a lot from this industry because, currently, there aren't many players. Establishing a first-mover advantage in a market involving scarce natural resources is crucial for investors' success.
Precious Gems in Australia

:

your business' future

The precious gemstone industry is presenting major opportunities for foreign investment and business expansion. With extensive experience in this market, Biz Latin Hub can create a personalized plan for your business' path to success abroad.

We offer tailored service packages in legal and financial compliance, due diligence and commercial representation. Our team of local and expatriate professionals delivers quality support to ensure the long-term success of your business.

Our recently-received award for Business Excellence by the Australian-Latin America Business Council demonstrates our commitment to quality service for businesses in Australia. Contact us here with questions or comments.

The information provided here within should not be construed as formal guidance or advice. Please consult a professional for your specific situation. Information provided is for informative purposes only and may not capture all pertinent laws, standards, and best practices. The regulatory landscape is continually evolving; information mentioned may be outdated and/or could undergo changes. The interpretations presented are not official. Some sections are based on the interpretations or views of relevant authorities, but we cannot ensure that these perspectives will be supported in all professional settings.