Respect, responsibility, confidence and inclusion are the words which resonate across the rugby pitches of Colombia. Fundación Buen Punto has undertaken a unique and remarkable effort to teach children from post-conflict areas fundamental social values, through the sport of rugby.
In coaching and teaching rugby, the message from the foundation is strong and clear: to tackle the divisions between social class and racism between children, and kick it out of Colombian society. "With rugby, you learn self-control, discipline and commitment," expresses Lucas Marroquin, President of Fundación Buen Punto. "You have to know the values of the game before knowing the game itself" he continues, as he gets ready to set out the sports activities which would cover the children's day.
Biz Latin Hub team members Adrien Soto and Diya Teeluck visited the Rugby 4 Peace programme in Bogotá, to spend the day with Fundación Buen Punto organizers and participants and learn about how they're bringing people and communities together.
The method for rugby and peace
Gary Stidder, Principal Lecturer in Physical Education at the University of Brighton and volunteer at the Rugby 4 Peace program describes the training as the "handing down of responsibility to the kids". Having seen success in similar projects such as uniting children in Israeli and Palestinian communities as well as those between Protestant and Catholic communities in Ireland, Gary hopes to replicate this success in Colombia.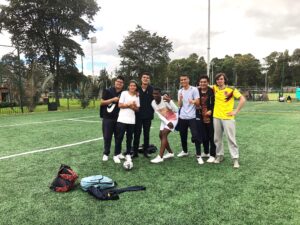 "It's all about making them play together for which is done using Bloom's Taxonomy, which looks at how to coach the children through social and cognitive domains".
Bloom's taxonomy looks at setting out objectives and outcomes for sports players, alongside a close assessment of the progress which has been made in training. Nevertheless, at Fundación Buen Punto the progress is measured by the development of the values in the children. Accordingly, this method has proved to be very effective, as the children playing rugby have shown an increased ability to settle into a stable way of life, and in society more generally.
Mariana, 17, who is a coach of one group of children said that "when we started with this group, the attitude of the kids was very different to how it is now. Before, if they lost a game of rugby, they would be sour losers and would be frustrated. Now the kids' attitude has completely changed as they have become more active and less aggressive. Even if they lose, they know they are there to have fun before anything else".
The organization has demonstrated success in creating a safe and peaceful environment for the children to develop social skills and moral values which may otherwise be difficult to develop in the post-conflict communities they live in.
Off the streets and onto the pitches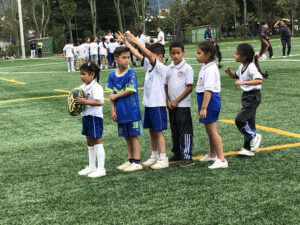 The impact rugby has had on the children has been exceptional. It has transformed the lives of children such as Andres, 16. He says "if I didn't play rugby here [at Fundación Buen Punto], I would probably be in a gang by now". The presence of 107 gangs in Bogotá alone has drawn children and young adults into petty crime, creating disruption and division in society. Felipe adds on that: "when you are bored and don't have anything to do, you turn to things in desperation. Thanks to the rugby I play here, I can use the values I learn to accomplish my dream of working in graphic design".
Not only has Fundación Buen Punto given the children something to do in their spare time, but it has also given them a place in society where they have learned to have respect for people around them. When asked about how rugby made him feel, Fernando, 21, says "when I play rugby it gives me a lot of emotion; it gives me strength in my life. It has given me so many values, such as respect, communication and underlying all this I am having lots of fun".
Breaking barriers down between kids
As a result, Fundación Buen Punto in Colombia has given children from displaced families or from impoverished areas the chance to learn about the values underlying the sport of rugby. The motives of this program are all about "breaking barriers down between kids" and teaching them about "self-control, discipline and commitment" expresses Lucas Marroquin. It is through the help of this foundation that 300 children from isolated and post-conflict areas have been able to play rugby in a framework of friendship and mutual respect. The specific selection of rugby over any other sport is a fundamental component in the fight against social exclusion.
Get knocked down, and get up again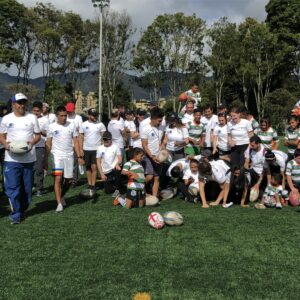 Speaking to Nicolas, a 21-year-old rugby coach on the program, he explains the beauty of rugby. "In rugby, when you get hit by a tackle you have to carry on, you have to be resilient and get up quickly. Life is the same. If you get bothered by anybody or anything, you can't stay down, you have to keep going!"
Alejandro, 19, who is also a rugby coach, is quick to agree that "it is the values that are important, even more so than playing skilled rugby". Within this, Alejandro describes his aim as a coach to teach the children values and skills which can be applied in every situation in their lives. He aims to give the kids a comfortable environment rather than shout at them to run faster or to play the ball quicker.
At Fundación Buen Punto there is no pressure from a coach's expectations in your ability to play rugby. The only expectations that are present is the children's development in the values that they have been taught. At present and in the future, this would see these children teach the values they have learned to others. The success of this has been shown as Diego, 21, states that "though there is competition on the pitch, there is never any of that outside the pitch, not like in other sports such as football, where rivalry between Colombian teams has seen fierce rivalry and aggression between their fans".
More than just a game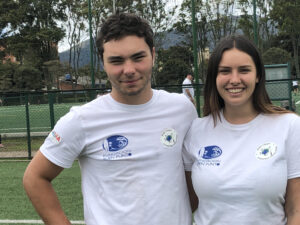 In the closing hours of the day, the children and young adult rugby players help their coaches put away all the cones and tidy all the equipment which had been used for the training. They are seen shaking hands, laughing and joking around, as a constellation of smiles forms all around the rugby pitch.
Speaking to a group of rugby coaches, we asked them about the difference they have felt they made. Nicolas, 21, says "we have implemented the values of sharing and unity in support of families who have been the victims of conflicts or for which are living very rough lives. But over everything, the most important thing we have learned or have come to find is that we have built a family, right here, on these rugby pitches".
The group of rugby coaches both nod at each other in confirmation of what has been achieved at Fundación Buen Punto. Diego concludes our discussion with the foundation: "It is a family which can never be split up".
Supporting Fundación Buen Punto
There are several ways to show your support for Fundación Buen Punto. And it doesn't have to be a monetary contribution.
The foundation appreciates the support offered through volunteering time and/or expertise, and donations of equipment or clothing.
To find out how you can help, contact Fundación Buen Punto through their website, or phone them on +57 316 525 0444.
How is Biz Latin Hub involved?
It's important to support those striving for a better future. Companies are in a good position to include a social development strategy to their business model, and give back to the communities around them. At Biz Latin Hub, we're backing the foundation because we can see the value their work brings to young people and their communities.