New Zealand's business climate brings about the ideal conditions for commercial success. The South Pacific island nation houses a productive, motivated workforce, easy market access and a pro-investment government declared by Prime Minister Jacinda Ardern as "open for business."
Its multicultural, 'melting pot' demographics, reputable universities and innovative cities support progress driven by diverse values and perspectives. We explore some of New Zealand's longstanding and emerging business successes to come out of its vibrant business environment.
Startups in New Zealand – Economy Overview
New Zealand outshines many others in the region with its robust economy, dynamic set of economic strengths, repeated demonstration of leading innovative thought, and global connections.
Insulated from the 2008 global financial crisis, this self-sufficient economy sports ongoing positive growth. For the year ended March 2019, GDP showed a 2.7% increase, driven by goods-producing industries.
As number one in the world for ease of doing business, it's no surprise the country is also nurturing a growing startup ecosystem. Some companies emerging from the South Pacific country's commercial environment have experienced significant success in their field, setting good examples for those who follow.
Kiwi influencers
Rocket Lab
Rocket Lab was founded in Auckland, New Zealand in 2006 by Peter Beck. He received seed investment from a fellow New Zealand entrepreneur, Mark Rocket. Rocket Lab was established as a small satellite launch company, working as a provider to service micro space launches. The business' objective was to achieve 'high-frequency, low-cost launches.'
The company was reportedly the first in the private sector in the Southern Hemisphere to access space, doing so with its Ātea suborbital sounding rocket in 2009. This rocket weighed only 60 kilograms and was successfully launched in 30 November.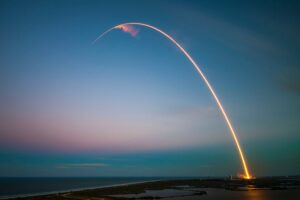 Since its beginnings, Rocket Lab has evolved into a billion-dollar business, drawing in around 270 inspired staff members. Its goal to democratise space has attracted investors such as Data Collective, Lockheed Martin, Bessemer Ventures, and Khosla Ventures. Rocket Lab has played a vital role in disrupting the space industry, and continues to do so with initiatives such as developing reusable rocket parts.
Robotics Plus
According to the Robotics Plus story, the forward-thinking Tauranga agritech company emerged to address "growing challenges in the primary industry globally such as: labour shortages, sustainability for growers, pollination gaps and yield security."
Robotics Plus was established as a startup by founders Steve Saunders and Alistair Scarfe. The startup aimed to develop automation, robotics, mechanisation and sensor-based technologies to optimise New Zealand's primary industries. With an economy heavily reliant on agricultural outputs, the country is well-primed for technological disruption to improve yields and sustainable management.
Leading products to come out of Robotics Plus include a kiwifruit robotic arm that can skilfully sense and pick the soft fruits from the vine. Global Pac Technologies have struck a deal with the Kiwi innovator to distribute its similarly-designed apple packers worldwide.
Now this company has seized global attention, major investments are rolling in. Japanese giant Yamaha has invested around US$10 million into Robotics Plus to develop their next leading inventions: an Unmanned Ground Vehicle (UGV) and yet-undisclosed forestry project.
Abel Software
Abel software sprouted up in the New Zealand market in 1996 with an aim to deliver state-of-the-art business management systems to small- and medium-sized companies. Based in Auckland, this small business garnered international attention through one of its clients, New Zealand Towel Supply, in 2002. Their client base now stretches over marine, manufacturing, engineering, financial service, food production, furniture, wholesale, distribution, and apparel sectors.
World-class Enterprise Resource Planning tools, used effectively by larger companies, was made accessible to smaller businesses, and Abel's popularity continues to grow among big and small commercial actors. Founder and Managing Director Allan Baird is now driving the internationally renowned business towards reaching a value of NZ$500 million within the next 35-40 years.
Deadly Ponies
New Zealand Designer Liam Bowden founded leather accessory label Deadly Ponies in 2005. In a short space of time, this ethical fashion label has collected an enviable set of global stockists from all over the world. Its flagship Auckland and Wellington stores reach to two of the country's biggest cities, and the brand's signature leather handbags now command up to NZ$1200 each.
Deadly Ponies focusses on small-scale production of the highest quality, building a fanbase for its careful craftsmanship. Nearly 40 retail stores across Australia, Malaysia and the United Kingdom stock these covetable accessories, as well as an additional 29 stores in New Zealand.
Startup ecosystem
Being a highly responsive market for new business, New Zealand is ready to welcome startups into the fold. Market experts have identified that New Zealand's startup ecosystem is still relatively young, especially when compared to some elements of environments in Australia's startup scene.
However, the South Pacific island nation ranks 15 in the world for its startup Output Growth Index, which measures the growth of these businesses' outputs. Additionally, it places 19 in the world for Early-Stage Funding per Startup.
These are good indicators of what's to come: though still in its infancy, startup conditions are clearly favourable in the crucial initial phases of business development. And thanks to New Zealand's extensive global connections, the country places second in the world for its market reach to customers in other regions.
Moving into New Zealand's active startup scene empowers entrepreneurs and business to stake their claim in their market of choice, and join ranks with the country's major international startup successes. Getting started now gives those early-movers the opportunity to shape and develop the startup environment and key connectivity pipelines to international partners.
Find your niche in New Zealand
New Zealand sets the stage for startup success, fostering powerful international connections and spearheading innovation in key sectors.
If you're looking to expand or startup in the New Zealand market, we recommend you seek guidance during the process.
At Biz Latin Hub, we expect a bright future ahead for the country's startups – particularly in technological innovation. We aim to help businesses get where they need to be and stay compliant the whole way there. Our market entry and back-office services are customizable to suit your specific needs.
The country is open for those investors and entrepreneurs on the lookout for new opportunities, and now is the right time to get started.
Reach out to our team of experts today via email here at Biz Latin Hub for personalized support on your journey.
The information provided here within should not be construed as formal guidance or advice. Please consult a professional for your specific situation. Information provided is for informative purposes only and may not capture all pertinent laws, standards, and best practices. The regulatory landscape is continually evolving; information mentioned may be outdated and/or could undergo changes. The interpretations presented are not official. Some sections are based on the interpretations or views of relevant authorities, but we cannot ensure that these perspectives will be supported in all professional settings.