In one of our most popular articles from last year, we explored some of the most exciting business opportunities in LATAM for three of the region's biggest economies: Argentina, Mexico, and Chile. In this article we continue the series turning our focus to the often overlooked but prospering Central American nations of Panama, Costa Rica and Nicaragua.
LATAM business opportunities: the Panama powerhouse
Panama has indisputably been one of the fastest growing economies in LATAM over the past few years. It recorded an average annual GDP growth of 7.2 % between 2001 and 2013, including a stable 4% growth in 2009 during the international financial crisis while its neighbouring countries were stagnating economically. Its economy, characterised by the Panama Canal and the US-Dollar as its currency, boasts a highly developed service sector which accounted for 75% of GDP in 2017 and proved to be its main driving force. The canal itself makes up 10% of GDP, similar to its agricultural sector. Other essential contributors are the Port Colon Free Trade Zone (CFZ) as well as the Trans-Panama pipeline and a large logistics and storage service sector. The large amount of public investment in recent years bore fruit with the creation of 280 thousand jobs and the reduction of general poverty from 21% to 17% between 2011 and 2015. Following an average investment of 45% of GDP over the past 5 years, the government is predicted to continue implementing projects to secure further sustainable growth.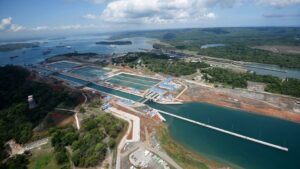 A Highly Diversified Investor's Paradise?
The government's ongoing 5-Year Strategic Development Plan 2015-2019 includes projects like the construction of a second metro line and reducing the deficit of the non-financial public sector. More traffic is expected thanks to the expanded canal. New investing opportunities for the private sector are also predicted due to emerging projects in mining, financial services, tourism and transport and logistics. 
All of this news encouraged the rating agency Moody's to improve Panama's economic outlook from stable to positive in October 2017. Panama is expected to continue their current trend of deficit reduction and compliance with the fiscal rule. Secondly, thanks to the abundance of projects rolling in, strong growth is expected reaching up to 30% of the current GDP during the next years.
Costa Rica: "La Pura Vida" in Every Respect
Costa Rica is seen as a role model internationally for the LATAM region due to its economic development and environmental policies. From the late 1980's onward, Costa Ricans experienced a constant economic growth thanks to an outward-oriented growth-strategy which allowed for more Foreign Direct Investment and liberalisation of its economy. Looking back to 1960, the economy has since tripled despite the challenging period of the economic slowdown during the international crisis in 2008. The nation managed to generate an average GDP growth rate of 4.5% between 2000 and 2013 compared to a regional growth rate of 3.8%. From there on, the growth rate has been constantly above a solid 3.5% until 2017.
One may say that its leadership in environmental policies contributed a significant part. In fact, Costa Rica is the only tropical country in the world with reversed deforestation and, accordingly, the nation is a pioneer in ecotourism and sustainable agriculture. On top of this, Costa Ricans rank highly on the Human Development Index beating other LATAM countries. The total poverty rate is one of the lowest in Latin America and the Caribbean (LAC) dropping to 20.5% in 2016 down from 22.3 in 2014. Nevertheless, the government still has to address issues such as a relatively high level of inequality and a languishing fiscal situation in order to maintain its sustained economic growth.
"Projections show that Costa Rica will grow 3.6% in 2018 while Latin America and the Caribbean, as well as Brazil, will grow only 1.9%."

– Eduardo Prado, manager of Costa Rica Central Bank (BCCR)
Costa Rica: the Retirement Haven?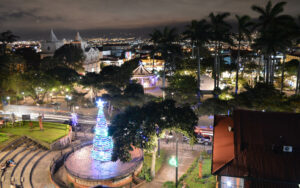 According to recent studies, Costa Rica has been ranked as the top destination for retirement in 2018, after consistently hovering in the top 10 for decades. Thousands of Americans and Canadians buy or rent property to spend their retirement in the nation. Widely known for its lush landscapes, iconic cities and stable economy, the small nation also attracts millions of tourist year after year who come looking for "La Pura Vida" (pure life). Also, the fact that it is also one of the top 10 fastest growing tourist destinations only makes it more attractive for real estate investors. Luckily, the Costa Rican government offers a temporary residency program for foreigners who make an investment of USD$200.000 of any type. After three years, this can lead to a permanent residency or even citizenship.
Hotels and holiday rental property investments are easy to pursue because it is one of the most popular tourist destinations in the LATAM region all through the year. Furthermore, property taxes are only 0.25% of the registered property's value. All of this combined means real estate is a safe, rewarding and great value investment for foreigners. Whether you want a gated condominium, commercial real estate or land to build your house, the infrastructure is outstanding and there is something for everyone.
Nicaragua: the Next Latin American Powerhouse?
Nicaragua finds itself in the same situation as Costa Rica did 40 years ago when the stunning, yet barely populated, the nation began welcoming expats and opening itself up to foreign investment. In 2018, Nicaragua is looking to follow in Costa Rica's footsteps and become an economic powerhouse in the Latin American and the Caribbean (LAC) region. Since 2011, its GDP has been growing consistently over at 4.6% making it one of the fastest growing economies in the LAC region. On top of that, it is classified as the safest country in Central America. With the aim to reduce the high poverty and inequality, the National Plan for Human Development (PNDH) has invested successfully in rural infrastructure and social projects. Between 2009 and 2014 general poverty decreased from 42.5% to 29% while extreme poverty decreased from 14.6% to 8.3%. However, poverty rates do remain high and it is one of the least developed countries in the LATAM region. The government has launched targeted macroeconomic policies as well as incentives to facilitate exports and encourage FDI to help the country gain its place among the powerhouses of Latin America.
See also: Company Formation in Nicaragua 
The Nicaraguan Tourism Industry Is Growing Astronomically Fast
Yes, Nicaragua is still less developed relative to its Central American counterparts; it has higher poverty rates, relatively bad infrastructure and lower rates of literacy. Nevertheless, the population and government want to move forward, and they see an opportunity in increasing the amount of FDI and the number of tourists that come with an evermore globalised economy. In fact, the government designed laws to facilitate the process for foreigners who want to start a business in the country with measures such as waving real estate or sales tax fees for 10 years. Considering that it is the safest country in Central America, combined with its
beautiful pristine landscapes, it is fast on its way to becoming a growing tourist magnet. Not to forget, the average monthly salary is USD$377.77, making it very affordable to employ local staff if your plan is to start a business.
The tourism sector is the industry most likely to boom. Travel and tourism already contributed 10.7% of the GDP in 2016, growing more than 394% since 2003. Thanks to the government spending significantly more on tourism, GDP is forecasted to grow by 4.8% yearly until 2027. This is compared to an average forecast of 3.5% for the LATAM region as a whole which is currently in recovery from an economic slowdown. Other industries are also expected to grow as Nicaragua has increased its ranking in terms of ease of maintaining a business, buying and registering property, paying taxes, ability to import and export, and enforcing contracts among many other factors.
Find Out More About LATAM Business Opportunities
Although there are many opportunities for doing business in Latin America, it can sometimes be challenging due to the significant legal and cultural differences you may encounter. If you are considering doing business in one of these promising rising stars, we have a team of local and expat professionals ready to advise you on any query you may have. Our mission is to facilitate the entrance of entrepreneurs and investors into Latin American markets with the help of our experienced teams of accountants and lawyers.
Please get in contact with us at contact@bizlatinhub.com to receive comprehensive advice about doing business in your chosen country.
Learn about our team and expert authors.
The information provided here within should not be construed as formal guidance or advice. Please consult a professional for your specific situation. Information provided is for informative purposes only and may not capture all pertinent laws, standards, and best practices. The regulatory landscape is continually evolving; information mentioned may be outdated and/or could undergo changes. The interpretations presented are not official. Some sections are based on the interpretations or views of relevant authorities, but we cannot ensure that these perspectives will be supported in all professional settings.