Biz Latin Hub's headquarters in Bogotá engaged with ACI Medellín, an agency working in Colombia's technological innovation hotspot to promote Medellín foreign investment activity. Medellín is a vibrant city located in the department of Antioquia, Colombia.
ACI Medellín's Executive Director, Catalina Restrepo Carvajal, shares insights on Medellín's position as a leading hub for innovation in Latin America, and how they're supporting further Medellín foreign investment.
Find out how Medellín foreign investment has developed and why this bustling city is perfectly positioned to support both multinational companies and startups alike, through agencies like ACI Medellín.
Tell us about the work that ACI Medellín does to promote foreign investment in Colombia
ACI Medellín understands the attraction of foreign investment as a development strategy for the city divided in two. On the one hand, we continuously welcome and conduct visits from investors interested in knowing first-hand the economic development plans of the city. And on the other, we have a proactive strategy to promote Medellín as an ideal destination for Colombia's foreign investment.
In short, we work to show the city to foreign companies and to promote confidence in the city amongst them.
What is the commercial history of Medellín like, and how has it evolved in recent years?
Historically, Antioquia has been a territory with a strong business fabric, which has also benefited Medellín. Therefore, the city hosts many renowned Colombian companies. Six out of the ten companies with the highest value on the Colombian Stock Exchange are headquartered in the city and are also now important multinational companies in Latin America (known as 'multilatinas'). They also have a strong commitment to transformation issues and social responsibility.
Nowadays, the city prioritizes the most remarkable economic activities in specific sectors articulating the management of foreign investment to the economic dynamics of Medellín. In 2018, ACI Medellín managed US$253 million in national and foreign investment.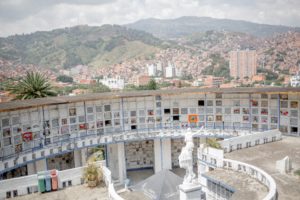 What kind of companies or startups are arriving in Medellin and where do they come from?
The city has an Economic Development Policy that integrates the strengthening of both traditional economic activities and emerging economic activities. ACI Medellín has taken this policy as a basis to define the sectors with the greatest potential for foreign investors: cultural and creative, technology, value-added services outsourcing, renewable energy and electric mobility, chemists and life sciences, agribusiness, manufacture, aerospace, infrastructure and competitiveness commerce, leisure and entertainment.
Infrastructure is one of the sectors with the greatest projection. It represents 1.9% of the Gross Domestic Product of Antioquia and grows at a rate of 7% per year. Also, in 2018, this sector ended the year with about 20,300 properties sold. Likewise, Medellín invests 2.4% of its GDP in science, technology, and innovation and by 2021 aims to increase this investment by 3%.
Historically, the countries that invest in the city the most are the United States, France, Chile, Mexico, China, and Spain, among others.
What are the benefits of investing in Medellin that companies and investors should take into account?
Benefits of investing in the city:
Colombia and Medellín have a suitable infrastructure for competitive exports, with Free Trade Agreements with about 60 countries

The country boasts significant air, maritime, and land connectivity

A strong institutionalization which reflects in the University-Business-State Committee. It articulates the academic actors, the public and the private sector to promote the development of the city.

Our qualified human talent, dynamic market, competitive costs, quality of life, tax incentives, and the ecosystem for innovation and creativity are other key benefits of Medellín.
What makes Medellín the technological and innovation center of Colombia?
There are some important aspects that make Medellín an important center for Colombia in terms of innovation and technology:
the city of Medellín invests 2.27% of its GDP in science, technology, and innovation activities;

at ACI Medellín, we have developed a strong relationship with the Ruta N Corporation in the attraction of companies that encourage the innovation ecosystem and facilitate the evolution of the territory towards an economy based on knowledge;

the creation of the Center for the Fourth Industrial Revolution associated with the World Economic Forum.
Also, as part of the strategy of the Innovation District of the city, it is noted that 316 companies with knowledge-intensive businesses from 32 countries have generated more than 8,000 jobs.
Could you share with us some important achievements of the ACI Medellín to drive the city towards the development and attraction of foreign businesses?
We achieved many goals during these 17 years of commercial history. However, I will refer to the last four-year period 2016-2019 and its development plan "Medellín Counts on You."
In that sense, this master plan guides our strategies and activities to position the city and the region both in foreign investment, and in international cooperation, boosting economic development, the creation of jobs, and improving the quality of life of Medellín's inhabitants. Thus, we have obtained an investment amount of US$1.1 billion between 2016 and 2019.
What do you think have been the key issues that have allowed Colombia's foreign investments to navigate the commercial platform of Medellin and Colombia in more general terms?
When considering the city as a destination for investment, the companies must consider some key points such as:
First, contact us at ACI Medellín so we can be your point of arrival in the city. We can provide you with key commercial advice which allows you to familiarize yourself with the territory and make the best decisions to settle in the city.

It's important to explore and understand the city's business characteristics and personality; we're energetic, innovative and vibrant.

Take the time to understand the physical environment and the city's configuration

Finally, get involved in the development of our city by starting your commercial operations in our territory.
---
Get the right support to do business in Colombia
We support agencies such as ACI Medellín promote the commercial advantages of their cities to a growing number of foreign investors every year. With Colombia's recent emergence as a regional economic power, Medellín's foreign investment has increased, and investors and entrepreneurs are considering their options to expand into this exciting new market.
While Medellín offers a thriving commercial environment for technology and innovation, other areas of Colombia offer various opportunities for new businesses to take advantage of. Our Colombian legal and accounting experts have been supporting foreign businesses entering the market since 2014.
Our full suite of market entry and back-office services provide the support you need to nurture your new business in Colombia. Reach out to our legal and accounting experts today here for a personalized quote.
Learn more about our legal and accounting experts, and the specialist support we provide.
The information provided here within should not be construed as formal guidance or advice. Please consult a professional for your specific situation. Information provided is for informative purposes only and may not capture all pertinent laws, standards, and best practices. The regulatory landscape is continually evolving; information mentioned may be outdated and/or could undergo changes. The interpretations presented are not official. Some sections are based on the interpretations or views of relevant authorities, but we cannot ensure that these perspectives will be supported in all professional settings.