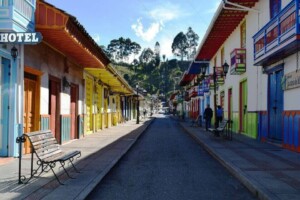 Over the past years, Colombia has become strong force in Latin America thanks to its financial recovery and rapid social growth. This has encouraged both local and international investment in this emerging country. After an extensive market analysis on your desired market, you need to decide how you would like to begin operating in Colombia.This article article will provide you with a brief outline on how to form a company in Colombia. Should you require more information, we recommend you make contact with a professional local company.
Form New Company – Company Legal Structures in Colombia 
When deciding to form a new company in Colombia there are five different types of legal entity to be considered. Of these, the three main legal company structures are:
Capital Based Structure:

As the name suggests, this type of company is one based predominantly on capital and includes Corporations (S.A) and Simplified Stock Corporations (S.A.S).
There is no limit on the number of shareholders in a capital based structure.
Person Based Structure:

Entities established under this format are known as Limited Liability Companies and the personal characteristics of the founding partners form the central basis of the agreement. For this reason, it is not always easy to allow new partners to join the company.
These companies must have a minimum of 2 and a maximum of 25 and shareholders. These shareholders are only liable up to the the amount of their payments to their companies capital.
Branch Office Structure: 

A foreign company can establish a new branch office in Colombia when it engages in permanent activities to formally represent its local business.
A branch office does not qualify as a separate legal entity and the foreign company remains directly liable for all local activities.
Legal Information to Form a Company in Colombia 
In order to actually form any new company in Colombia, your lawyer must prepare a set of specific documents which will allow the creation of the 'articles of incorporation´ for your new business. The necessary information is as follows:
Power of Attorney: Your lawyer will need this in order to manage your legal affairs in Colombia.
Identification: The legal representatives for the new company will need to provide copies of their passports along with letters confirming their position in the new company.
Minutes of Meeting: If a shareholder of the company is a foreign entity, that entity must provide the minutes of a board meeting confirming the necessity to establish a new company in Colombia including the following information:

Corporate name
Address in Colombia
List of company activities
Assigned equity
Division of equity shares
Board of directors information – If the board meeting is not held in Colombia it must be translated into Spanish and apostilled.

Good Will Standing Certificate: The foreign company will need to present a 'good will standing certificate'. In addition, the newly formed company in Colombia will need to provide its articles of incorporation and proof of its existence.
Your lawyer will file the request for registration of the new company before the local Chamber of Commerce. A standard fee of between US$17-873 is charged by the Chamber for the registration depending on the size of the company equity investment, as well as a contribution of 0.7% of the company's equity.
After this has been done it will be necessary for the company to open an account in a local Colombian bank, following which the Tax Registration Number (RUT) must be obtained from the National Tax Authority (DIAN). The last step to be taken will be the payment of the company's equity and the registration of this investment made at the Colombian Central Bank (Banco de la República).
Biz Latin Hub is able to assist you during your company formation to ensure a smooth transition into Colombia. We can also provide you with profesional and tailored accounting, legal and financial services which will allow you to focus on your core business activities and competitive strategies. Don't hesitate to contact Craig here for further information.