If you are considering entering the Colombian market for a short-term or limited-scale commercial activity, hiring staff via a PEO payroll company in Colombia could be your best option.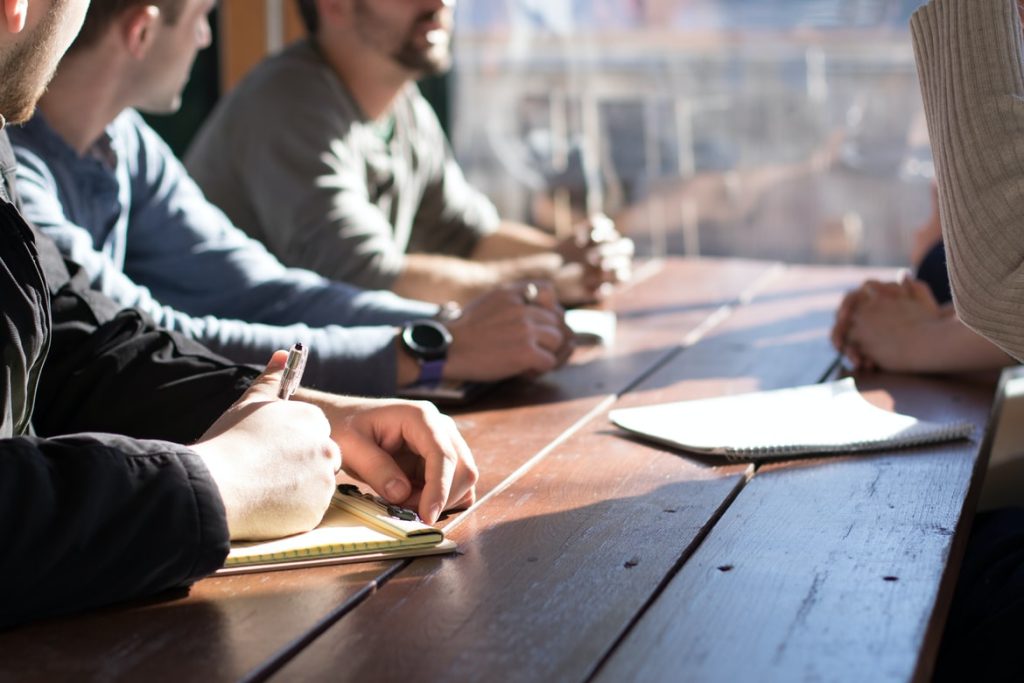 Because when you hire staff through a professional employer organization (PEO), the PEO firm employs them through its locally based subsidiary, while you retain full control over their schedules and workloads — meaning that you can effectively enter the market without going through entity set-up.
A PEO firm can also be known as an employer of record (EOR) and is often referred to as a PEO payroll company, owing to the fact that part of the service package they offer is to manage the payroll of all staff. 
SEE ALSO: Are You Looking for a Corporate Lawyer in Colombia?
Hiring staff through a PEO payroll company in Colombia is also a common choice for foreign investors or corporations who only need one or a small number of locally-based executives.
Contact us today if you would like to find out more about how we can assist you with PEO services in Colombia.
Colombia a popular destination for foreign investment
Colombia is a popular destination for foreign investors, with $14.3 billion in foreign direct investment (FDI) entering the country in 2019 (all figures in USD). 
That represented almost 4.5% of gross domestic product (GDP), which in 2019 was registered at  $323.4 billion. Following the turmoil of the global COVID-19 pandemic, Colombia saw its GDP drop to $271.3 billion in 2020. 
However, the World Bank has recently highlighted that it expects the country to register GDP growth of 7.7% in 2021, exceeding the decline seen during 2020.
While Colombia is famed for its coffee production, it's number one export product is petroleum oil. It is also one of the world's primary sources of emeralds, and has rich deposits of other precious gems and metals, including significant gold deposits.
The country also has a large agricultural sector, with fruits and nuts, cut flowers, and plants and trees joining coffee among some of its most important exports.
Colombia is known for its business-friendly outlook and commitment to free trade, and resident businesses benefit significantly from its participation in regional integration initiatives, including the Andean Community of Nations, alongside Bolivia, Ecuador, and Peru.
It is also a founding member of the Pacific Alliance — a 10-year-old economic association that also includes Chile, Mexico, and Peru, and which recently demonstrated its commitment to expanding beyond the region by concluding negotiations with Singapore to become its first associate member.
For anyone considering moving into the Colombian market, hiring via a PEO payroll company in Colombia offers a number of advantages.
How can a PEO payroll company in Colombia help you?
Your PEO payroll company in Colombia will not only hire staff on your behalf and oversee the administration of the payroll for them, but will also be able to help with their recruitment.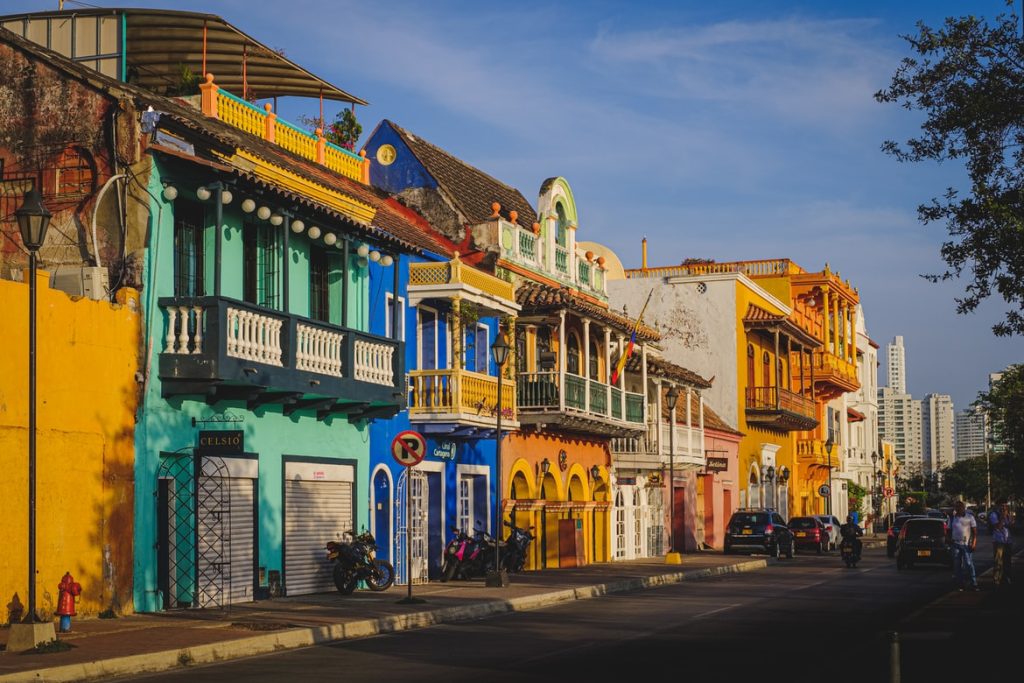 That is because a PEO payroll company in Colombia will have an established recruitment network in place and knowledge of the local employment and educational landscape, including knowing the best qualifications that prospective candidates could hold.
A PEO payroll company will also be able to provide useful advice with relation to the market, while also drawing up documents, such as employment contracts.
A notable benefit from hiring via a PEO payroll company in Colombia is that the PEO firm will guarantee compliance with all regulations and norms. 
While a PEO firm will charge you a fee, which will usually be on a per-employee basis, that cost will often be considerably lower than the costs associated with entity formation and subsequent liquidation, as well as offering the convenience of allowing you to get to work in only the time it takes to find the right people for the roles you are trying to fill.
What are the advantages of hiring via a PEO payroll company in Colombia? 
Hiring employees through a PEO payroll company in Colombia comes with the following benefits:
Local knowledge: Your PEO payroll company will have vast knowledge of the local market, which you will benefit from during the hiring process and ongoing operations.
Established network: A PEO firm in Colombia will have a well-established network to tap into in order to find the staff you need, as well as to assist with other aspects of doing business in the country.
Rapid entry: Working with a PEO payroll company means  that you can have staff in only the time it takes to find them. Depending on the profile of the person or people you are looking for, that could be just a couple of weeks, or even days. 
Limited commitment: By hiring via a PEO firm in Colombia, you limit your commitment to the market until you are ready to deepen it via company formation, or the establishment of another kind of entity. 
Cost efficiency: The PEO fees you are going to incur will likely pale in comparison to the costs involved in establishing and running your own entity, meaning that it provides a cost-effective solution in many cases. 
Legal support: Your PEO payroll company will be responsible for properly implementing all aspects of local regulations, including employment law, labor law, and other specialist codes related to employing people in your commercial sector.
Biz Latin Hub can be your PEO payroll company in Colombia
At Biz Latin Hub, we have the people in place and expertise to be your PEO payroll company in Colombia. We offer hiring & PEO services as part of a comprehensive portfolio of back-office services, which also includes company formation, accounting & taxation, and legal services, among others.
That means that, not only can we support you with PEO services, but we can also help you to take the next step in the market. 
We also have teams in place in 15 other markets around Latin America and the Caribbean and specialize in multi-jurisdiction market entry.
Contact us today to find out more about how we can assist you doing business in Colombia.
Or read about our team and expert authors.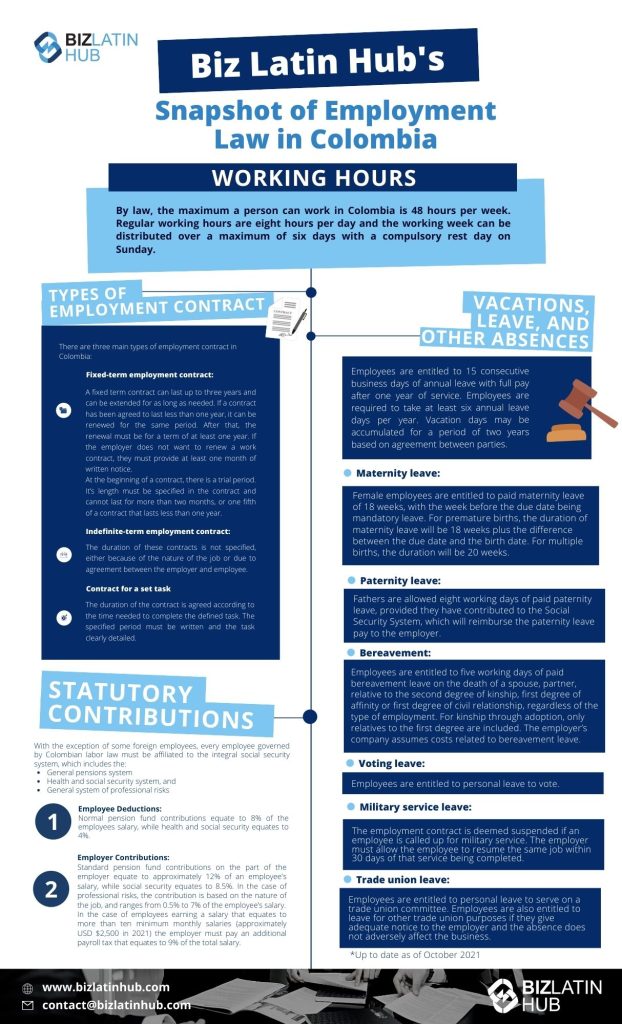 Download this snapshot of employment law in Colombia below: