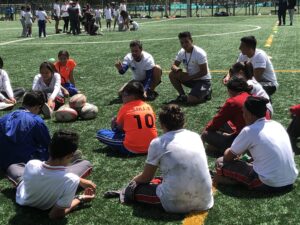 Thursday 11th July 2019 at El Salitre Park in Bogota was the first time Fundación Buen Punto organized a large-scale event for underprivileged children in Bogotá. They catered for more than 50 coaches from the Sports Ministry, Bogota Sports Authority IDRD, Indeportes Cundinamarca and the Bogota Rugby League. This event aimed to build capability to support and work with approximately 350 children from post conflict and isolated communities.
Diya Teeluck and Adrien Soto, volunteers from sponsors Biz Latin Hub, took a field trip to take part in this inspiring event and learn the values that Fundación Buen Punto helps to teach young people through sport.
Lucas Marroquin, the President of Fundación Buen Punto, set up this non-profit organisation in 2014, with an aim to "break down barriers to inclusion" for those living in isolated communities. The event is about helping children to learn values through the sport of rugby, but to be able to take these values into everyday life. The aim is to stop children from joining gangs and crime-related situations. They also focus on turning lives around for the better to gain a better community. Children from all over Bogota attended, including children from Mosquera. Mosquera is known for its rougher, more underdeveloped socioeconomic conditions.
The event started around 11:00am and lasted until 4:00pm. The children were first a meal and drink of their choice to boost their energy. Soon after they had finished eating, the volunteers and sports coaches started preparing the field with the equipment for the day's activities.
Using Bloom's Taxonomy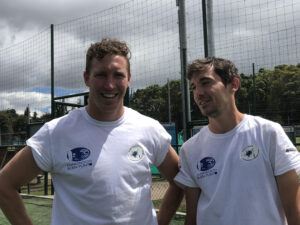 As part of this program, a special methodology called Blooms Taxonomy has been incorporated. This is a set of three hierarchical models used to classify educational learning objectives into levels of complexity and specificity. The three lists cover the learning objectives in cognitive, effective and sensory domains.
The practical elements that Fundación Buen Punto used was stating and teaching the values to the children through the volunteers and coaches. These values are taught through rugby and other team paying games. The techniques used in this sport helps to create a better community vibe, such as talking to these children in a circle rather than making them stand in a line. Small actions like this create a more social, team-playing dynamic and most importantly, inclusion.
Dr Gary Stidder, founder of Football4Peace and a Principle Lecturer in Physical Education at the University of Brighton, explained that the Bloom's taxonomy theory worked initially as a test to help reunite the divisions of religions, races and communities. This was successful between children in Jewish and Palestine communities, and the Israeli sports authority has now adopted this methodology too. This has equally worked in South Korea in Seoul to help children who have defected from North Korea, and was tested in Ireland to bridge the divide between religious families.
Self-starting values
Dr Stidder traveled to Colombia to assist with the Rugby 4 Peace program. He mentioned the British university students, who also coached the children, raised money to help equip the program.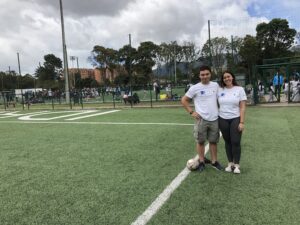 Just like the other organizers, he was pleased to mention that during their time with Fundación Buen Punto, he saw the children adopt morals such as "trust, respect, responsibility, equity, inclusion in society," thanks to the activities run by the organisation. He says "it's all about giving responsibility to the kids" in developing their own sense of self.
University of Brighton post-graduates Kelly Smoth, Seb Cirillo had expressed their plan to start their own NGO in a few years to focus on females getting into sport which is why this event was great to start integrating young girls and boys into playing sport together regardless of gender. They were joined by Dr Jack Sugden, a lecturer from the United Kingdom, who teaches at Edge Hill University in sport development and management, equally taking their own time out to volunteer and coach these children. These volunteers also agreed the values in the way the Fundación teaches rugby creates more discipline in these children's lives.
The fundación family vibe
Mariana Gomez Aldana and her colleague, who both volunteer and coach explained that the attitude of the children had improved as they became more active and less aggressive and in fact the children learnt the main lesson that nobody can lose in life and just be happy for everyone. She was excited for the event and expressed that she helps out because this was a fun and good way of hep the underprivileged children.
Felipe, 19, is glad he had the opportunity to adapt to the values that rugby taught, and found his self-worth. He has decided to go into further education in graphic design. Fernando, 21, highlighted that rugby was emotionally stimulating for the better for his life and felt more strength mentally thanks to this foundation. The methodology of values really did impact a lot of these children and Fernando said he has learned respect, communication and underlying all this, he was having lots of fun.
Next, Diego, a 19-year-old coach born in Colombia, also said he likes to volunteer because this has about teaching young children values and not just about playing a game and winning. He admitted "there are many children here and we have created a family outside of our own families. It is a family which can never be split up."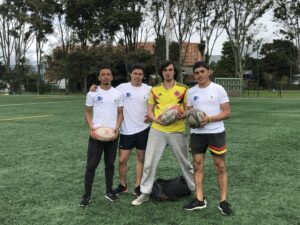 Nicolas, 21, and also a Colombian coach at university, mentioned the significance of implementing these values into the children's lives, especially those who have been the victim of conflicts. These values can be passed down by children through their society, their families and anywhere they are. Ultimately, Nicolas and other volunteers found that there are many things which they and the children have learned from this program. For example, Nicolas said "this foundation gives strength. The fact that in rugby even when you get hit by a tackle, you carry on, you have to grow up and be resilient quickly. Life is the same. Also, the fact that we have implemented the values of sharing, unity in support of families who have been victims of conflicts and rough lives. But over everything, the most important thing we have learned or rather noticed, is that we have built a family, right here, on these rugby pitches."
Alejandro, 18 years old, said "on the pitch there is lots of competition – but any rivalry is only to be done on the pitch, we never see it outside of the pitch. This is just part of the game and there are no hard feelings."
Lucas' passion for this organisation evolved from his passion as rugby player since 2000. He realized this particular sport integrates a lot of values that now form part of the foundation's training methodology. This included self-discipline, self-control and commitment. These values build confidence and positive behaviours in young people prone to social exclusion, that they can apply in their homes, work, school and even their community.
Supporting communities
Thinking deeply about how to benefit children, Fundación Buen Punto considers the 10pm-8am curfews enforced by the local council in specific areas in Bogotá. The curfew was implemented to avoid conflict and joining of gangs. During daylight hours, the foundation offers them something to do that helps them to socialize with others and develop themselves. Usually this foundation coaches around 50 children consistently, with the help of 15 sports coaches to help them revitalize these values.
Andrew Wright, the Secretary for Fundación Buen Punto, is driven to ensure the organisation helps young generations who have come from displaced families to become more respectful, and playing sports is a way to keep them off of the streets. Empathetic towards some of the children's situation, Andrew clarified that special needs children are also encouraged to take part because this is a non-discriminating organization. Andrew was adamant that "values are a universal language that can be learnt regardless of the age, community and situation."
Essentially, Andrew stated that training sessions do not have referees with traditional coaching mannerisms; there's no aggression or shouting of instructions at the children. They intend to give these children independence thus making it a friendly environment.
The Fundación Buen Punto Rugby4peace had inspiring volunteers coaching children for the benefit of their communities. Both participants and coaches expressed how much everyone's co-operation was valued. The foundation's methodology fosters a caring family vibe regardless of the background of the children and volunteers.
Biz Latin Hub thanks the Fundación and their players and coaches for spending the time talking to Diya and Adrien.
Get in touch with Fundación Buen Punto
There are several ways to show your support for Fundación Buen Punto. And it doesn't have to be a monetary contribution.
The foundation appreciates the support offered through volunteering time and/or expertise, and donations of equipment or clothing.
To find out how you can help, contact Fundación Buen Punto through their website, or phone them on +57 316 525 0444.
How is Biz Latin Hub involved?
It's important to empower those striving for a better future. Companies are in a good position to include a social development strategy to their business model, and give back to the communities around them. At Biz Latin Hub, we're backing the foundation because we can see the value their work brings to young people and their communities.
Just as we support individual development, we provide support to companies so they can flourish in their new commercial environment. Reach out to us to find out how we bridge cultural gaps in our work and how we can support you.
The information provided here within should not be construed as formal guidance or advice. Please consult a professional for your specific situation. Information provided is for informative purposes only and may not capture all pertinent laws, standards, and best practices. The regulatory landscape is continually evolving; information mentioned may be outdated and/or could undergo changes. The interpretations presented are not official. Some sections are based on the interpretations or views of relevant authorities, but we cannot ensure that these perspectives will be supported in all professional settings.