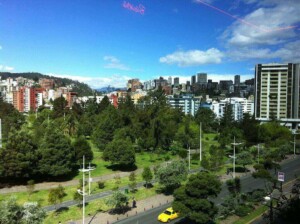 Now could be a prime time to form a company in Ecuador. One prevalent reason is that Ecuador's economy has been on the rise since 2017, and it has "had a speedier-than-anticipated recovery" from the economic downturn. This growth is mainly due the partial recovery in oil prices and increased access to international financial markets, as well as higher commodity prices.
That being said, another factor adding to Ecuador's business potential is its liberal investment regulations, business friendly environment, and equal treatment to foreigners and citizens. However, like many Latin American countries, it can be difficult to do business without knowing the local regulatory environment, such as the legal and accounting system.
In recent years, Ecuador hasn't been known for attracting foreign investors however given the current developments it looks set to become the next destination of choice.
For those looking to tap into Ecuador's potential, this article gives an outline of the process for forming a company.
1. Setting Up the Legal Structure for Your Company in Ecuador
When forming a company in Ecuador, there are a number of legal structures to be considered:
Limited Liability Company (public or private) (SRL – Sociedad de responsabilidad limitada in Spanish)
Unlimited Liability Company/Corporation (ULC)
Partnership (general or limited)
Joint Venture
Sole Proprietorship
The correct one for your business would depend on your needs, but the majority of companies that are set up in Ecuador are Limited Liability Companies (SRL).
Quick FAQs When Forming a Company in Ecuador
Is foreign ownership allowed? YES
Can the company sponsor foreign employees? YES
How much capital is needed to form a company in Ecuador? >USD $400 
Does Ecuador impose any foreign exchange or capital controls? NO
What is the timeframe for setting up a company (including registration, and bank account)? 4 – 6 WEEKS
Are a fiscal address and legal representation required? YES, in order to obtain the RUC number
What is the minimum number of shareholders required? TWO
What is the currency?  US DOLLARS
2. Grant Power of Attorney to Your Legal Representative
Draft a document granting full faculties to an attorney in order to take appropriate action to set up a company in Ecuador.
The aim is to provide the legal representative with all faculties needed to represent you or your foreign company in Ecuador so that they can form the company in a lawful manner.
3. Register the Company in Ecuador
Do a search for your company name before registering to ensure there is no copyright or trademark infringement and then have it officially approved. You have to reserve the company name in Ecuador at the Superintendent of Companies.
Minutes of Incorporation and Bylaws in Ecuador
Matters to consider when registering:
Register documents and prepare the minutes of incorporation, which include the contract, articles of incorporations, company's bylaws, and the formation of capital
Find a lawyer that is able to constitute and sign the documents
Remember! A public notary is necessary for notarising the documents
Superintendant of Companies in Ecuador
In addition to reserving the company name, you must also register all details of your company at the Superintendence of Companies in Ecuador in order to obtain the company's unique identification number and pay the annual registration fee.
Documents required for this registration include:
Address of the company
Name of the legal representative
A certified copy of the public deed of the constitution of the company
Confirmation can be found online within 24 hours of completion.
Company's Legal Existence
You have also to register the company's objective, resolutions and the name of the legal representative in the Mercantile Registry Office.
This is necessary for confirming the legal existence of the company. The Registry Office will provide you a registration number (numero de codigo).
4. Taxes in Ecuador
Obtain Fiscal Code & Social Security
Once you have registered the company, you have to apply for the Fiscal Code (Registro Unico de Contribuyentes – RUC) at the Servicio de Rentas Internas (SRI). This takes 24 hours.
Then, you have to sign up online for Social Security at the Ecuadorian Institute of Social Security and obtain a passbook to use the online platform.
Municipal License
You have to pay the commercial patent at the Mucipality of Quito and obtain the "tasa de habilitacion". The commercial patent is a tax for a person or company that has a commercial or industrial activity and must be paid every year.
As for the "tasa de habilitacion", the fee depends on the type of company and the location as well as its size of facilities or its sector.
For further details on the tax and accounting requirements in Ecuador, see our article by following the link.
5. Do You Want to Form a Company in Ecuador?
Once you have your business setup, registered, legal representation, and you have your tax and accounting in order, then you are ready to do business in Ecuador.
If you have any questions or enquiries about how to form a company in Ecuador, our Ecuadorian business experts have created a company formation presentation. We hope it helps! If you have any more questions about how to incorporate your company in Ecuador, please do not hesitate to contact us now. Our Biz Latin Hub team in Ecuador includes local and expat professionals who have the knowledge and expertise to support you throughout the process.
View our slideshow on "How to Form a Company in Ecuador"