Oliver Houlcroft from Biz Latin Hub spoke with Jairo Hernandez, Ambassador of Costa Rica to the Commonwealth of Australia regarding the economic success of Costa Rica. This interview has a particular focus on how education has shaped the national, the diversification of the Costa Rican economy and FDI in the region. 
Biz Latin Hub (BLH): How has education played a part in the shaping of Costa Rica as a nation?
Jario Hernandez: High-quality education has always been one of Costa Rica's core values. Many of the nation's early leaders, including the first president Jose Maria Castro, were teachers. Since the 19th century, education has been free and mandatory for everyone aged between 6 and 13. The country's education system has since developed into one of the best in Central and South America, boasting more teachers than policemen and with more than 4,000 schools. 
Furthermore, English has been a mandatory subject in Costa Rican schools since the mid-1990s. This has enabled most graduating students to have a proficient level of English. The introduction of mandatory English classes has had a tremendous impact on Costa Rican students, enabling them to communicate and thrive within the tourism industry, one of the fastest growing industries in Costa Rica. 
When Costa Rican President Jose Figueres Ferrer announced the abolition of the army in 1949, he did so with the promise that "the army would be replaced with an army of teachers". Without the financial upkeep of an army, Costa Rica has been able to focus on investing in education programs that foster the nation's values. A recent study shows that the GDP per capita increased from 1.42% to 2.28% between 1950 and 2010, mainly attributed to not having armed forces.
Many Costa Rican universities are incorporating pioneering education for sustainable development in their programs and curriculum and are gaining international recognition for their efforts. Costa Rica is emerging as one of the most innovative countries of educators in the world, promoting education in language, technology, and environmental sustainability. Consequently, Costa Rica is considered one of the most progressive nations regarding climate change and aims to become the world's first carbon-neutral country by 2021.
BLH: What national sectors have the most potential for growth over the short to mid-term in Costa Rica?
Jario Hernandez: Ever since the arrival of Intel in 1997, the sector of high-tech related goods and services qualitatively transformed the composition of Costa Rica's economy. Several clusters were formed, one of them being the medical devices sector. Costa Rica's MedTech (Medical Technology) sector is forecast to witness major growth in the coming years. Costa Rica has moved from producing Class I to Class III medical devices and ranks 7th globally for a number of MedTech products manufactured. Since the year 2000, employment in this sector has grown 13 fold and has gone from having 8 companies in the MedTech sector to 68. In the last decade alone, exports on medical devices have grown from USD$580 million to USD$2.2 billion. Optical, technical, and medical apparatus are currently Costa Rica's biggest foreign exports, equating to 4% of the total GDP, and production is still on the rise.
Costa Rica's Green Energies industry is growing rapidly and gaining lots of attention on the world stage. The Costa Rican Electricity Institute (ICE) has said that for the last two consecutive years, 98% if the country's electricity came from green sources. These involve the country's large hydropower facilities, geothermal and biomass plants, solar panels and wind turbines. However, transport is still the cause of half of Costa Rica's CO2 emissions, with most cars being fossil-fuelled. Consequently, there are significant ongoing efforts to reduce carbon emissions. In 2017, Costa Rican Congress passed an incentive package promoting electric vehicles, including more charging stations, and lower taxes for the vehicles. Costa Rica also aims to supply electric public transport and busses in the future and is pushing public institutions to make the switch to electronic vehicles for their fleets.
Agriculture remains one for the country's top exports, and to support this sector Costa Rica has been pouring in efforts into reforming its agricultural policies and expanding its sustainable development sector in agriculture in the coming years. It is one of the worlds largest exporters of bananas and tropical fruits, and production levels are on the rise.
BLH: What are some initiatives that Costa Rica is undertaking to continue attracting FDI?
Jario Hernandez: FDI investment is one of the country's priorities and 2018, with the country creating 12,691 new jobs through 48 projects. These projects included new investments and expansions in the service sector, digital technology, life sciences, and advanced manufacturing services, according to CINDE, the country's prime agency in charge of promoting Costa Rica as a competitive place for investment. The government maintains a system of various incentives for investors. The Free Trade Zone Regime is the nation's main investment promotion strategy. It comprises of complete tax exemption on:
Customs duties on imports/exports

Withholding tax on royalties and fees

Interest income

Sales tax on local purchases

Stamp duty
For service and manufacturing projects, the government also provides a 100% income tax exemption and a 50% tax exemption for the following 4-year period. Furthermore, Free Trade Agreements with preferential access to over 57 partners is a key aspect of the nation's policy to be an open economy, with partnerships with some of the world's largest economies including the European Union and China as well as Costa Rica's largest trade partner, the United States. Moreover, a focus on developing FDI growth in high-value-added industries has increased government spending in education to a sustained level of equating to around 7 – 10% of GDP. As a result of a higher educated labor force with a literacy rate of 97.4%, outsourcing productivity levels having risen intensively by 97%.
BLH: Why has Costa Rica been able to diversify and expand its local industries while its neighbors have not had this same success? 
Jario Hernandez: There are historical reasons. In a way, Costa Rica was able to follow a different path thanks to a history of political stability, democratic institutions and a welfare state resulting from not having military costs. Investment in the nation's labor force provided the country with an opportunity to become a service-based economy and a high-value-added net exporter as opposed to a textile and agriculture exporter as experienced in neighboring countries, providing workers higher incomes and better working conditions. Moreover, macroeconomic policy reform throughout the 1980's which involved broadening the tax base, as well as the abolishment of agricultural subsidies, the freezing of public sector salaries and the public pension system has helped the economy to remain competitive amongst the world by reallocating resources to industries in which the economy has a competitive advantage on. Costa Rica now having a skilled labor force means that the service sector now represents a total of 44% of the nation's exports, with exports of high value-added services, representing 6.8% of GDP, up from 1.3% in 2000. Lastly, a key factor setting Costa Rica apart is the strength of its regulatory bodies and a stable political environment as it provides foreign investors with confidence, thereby making Costa Rica a haven for foreign investors.
BLH: What have been some of the key legislation in the past that contributed to the economic growth of Costa Rica?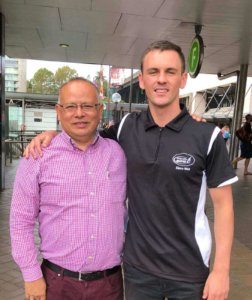 Jario Hernandez: The country enacted laws and regulations that facilitated more open trade with the rest of the world and the attraction of FDI. Over the years, thanks to new policies, Costa Rica became more competitive with respect to the rest of the world. Almost 80% of the country's trade takes place with countries with which Costa Rica has signed free trade agreements, including the United States of America, Canada, Mexico, Chile, Peru, Colombia, the European Union, China, Singapore, and South Korea.  FDI represents a large part of the Costa Rican economy, sitting at 4.2% of total GDP: it is, thereby, a strong contributor to economic growth. With regards to FDI, Costa Rica is a part of 14 bilateral investment agreements, five of them with the EU Member States such as Spain, France, the Czech Republic, the Netherlands, and Germany. The Free Trade Zone Regime of 1990 marks a turning point in Costa Rica's trade policy and industry focus. A move initiated by Intel in 1997, brought over 2,000 high skilled jobs to Costa Rica in design, software solutions, finance, HR, sales and management. This move by Intel effectively showed the world that Costa Rica was open for business and the world followed, providing an influx of USD$3 billion in the year 2017. Further, Costa Rica's broad export base has also meant that the Costa Rican economy is not subject to large fluctuations or headwinds in commodity prices. In contrast, a diversification in technology, medicine, tourism, agriculture, and textiles delivers a strong and stable economy. A strong and stable economy combined with a stable political environment help drive consumer and investor confidence producing high levels of sustainable consumption and investment in the economy.
---
Costa Rica provides investors with high-value, diversified and open-market economy. Additionally, Costa Rica has a pro-business government, and as such, the nation is part of various regional trade agreements, providing importers and exporters with exciting trade opportunities as well as various fiscal benefits.
If you are interested in expanding your operations to Costa Rica, then reach out Josseline from Biz Latin Hub to see how we can support you and your business growth and development. 
The information provided here within should not be construed as formal guidance or advice. Please consult a professional for your specific situation. Information provided is for informative purposes only and may not capture all pertinent laws, standards, and best practices. The regulatory landscape is continually evolving; information mentioned may be outdated and/or could undergo changes. The interpretations presented are not official. Some sections are based on the interpretations or views of relevant authorities, but we cannot ensure that these perspectives will be supported in all professional settings.