Automation is becoming an increasingly important component of everyday life. Innovations and inventions are revolutionizing what it means to live in the 21st century world. Generally speaking, these changes bring about positive shifts in a handful of different sectors, such as medical care, security, connectivity and globalization, transportation, and facilitating trade. 
One of the lesser-known sectors that benefits greatly from automation and technology improvements is actually the human resources sector. Specifically, recruiting efforts have been made much easier through the use of automated processes. Adopting and integrating these advancements into your recruiting efforts could greatly improve the hiring process for you and your company in a variety of manners.
What technology is there?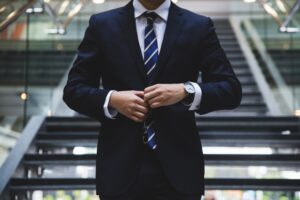 The amazing thing about automation in the workplace is that there are so many different uses for it. Recruitment is typically an arduous and multi-faceted process. New technology and applications aid in a handful of key hiring processes. 
Automated job postings and social media
When a company is looking to hire, they often flood the market with job postings and updates. Contacting old employees, former applicants, and new candidates about the position takes up valuable time for the recruiters. Through automated posting platforms, recruiters can schedule job postings over an allotted period of time without any hassle. Moreover, access to accounts like LinkedIn helps market the company and its job post, while also giving the recruiter greater access and insight into the candidates applying. Social media accounts give them a chance to put a face with a name. Additionally, these accounts may have valuable information about an applicant that a CV or resume might not have, like location, phone number, etc. 
Resume screening automation
The most commonly used automation throughout the recruitment process is for resume screening. Being the most time-consuming part of the recruitment process, screening resumes desperately needed a streamlining mechanism to make it easier. Recruiters and experts estimate that out of a pool of applicants, at least 75% are usually unqualified. This means that for one position, a recruiter spends three-quarters of their valuable time reviewing applicants that are unfit or inadequate for the advertised role. 
Just recently, the much-desired technology emerged and now recruiters can streamline this formidable part of the hiring process. The most common type of screening automation focuses on keyword screening. Keyword screening rifles through the submitted resumes, essentially searching for the keywords the employer included in the advertisement. If an applicant's resume doesn't include the word, or a related one, the system removes them from the pool. This makes it so the recruiter only has to review the qualified applicants, ultimately saving them loads of time. 
Interview automation
Considerably one of the most important parts of the recruitment process, interviews give both the recruiter and the applicant a chance to get to know each other on a deeper level. Before this stage, each party is only known as far as the bullet points on the job posting or the CV.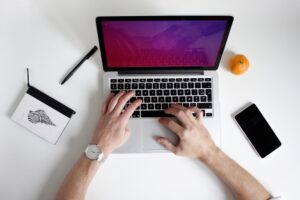 Advancements in video chatting, internal communication platforms, and software help companies adapt to the globalized, virtual workforce. Interviews don't necessarily have to be in person now, which allows for greater flexibility in the hiring process. Moreover, it allows for greater access to a larger pool of applicants. Ultimately, this increases competition among applicants and pools the strongest and most qualified candidates from all around the world.
Not only have these live media platforms bettered the interview process, but so have automated interview systems. A growing trend for interviews is to use a platform in which the company or interviewer records each question they want to ask. The interviewee has a window of time, often around a week, to sign in to the platform and complete the interview. Each question plays one at a time, and then it times and records the interviewee's response. Although this is less personal than a video chat interview, it has its own unique benefits. Playback capabilities for reviewing answers and/or studying body language is considerably one of the most important. Additionally, time zone issues between the candidates and the company's locations can be troubleshot with this technology.
Company-wide processes
Going beyond just external automated platforms, there are internal, company-wide changes that can be implemented to improve overall functionality. Specifically, a uniform program across the company can especially help the human resources department and its recruiting efforts. 
A well-known automated approach to this idea is an overarching intranet for a company. An intranet allows employees to connect and work together over one common medium, ultimately facilitating the job at hand. Within an intranet, there can be automated templates and processes associated with the hiring process. For example, generating a job post, a job offer, and even an employment contract can all be streamlined and done through a clear, easy-to-use, intranet system. 
Additionally, the intranet can host on-boarding and training processes for new hires. This saves the company time and resources because the recruiter doesn't have to catch the employee up on simple things. The employee can find what to expect, who the company is, and a preview of company culture in an intranet on-boarding process. 
Challenges to automation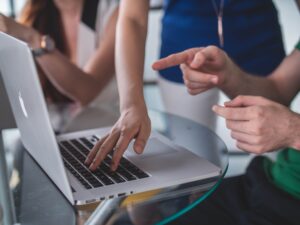 Advancements in technology are responsible for thousands of positive changes and benefits in the world today. However, automation tends to be a double-edged sword, bringing about challenges and drawbacks along with the benefits it brings.
Even though resume screening saves recruiters a lot of time and hassle, it can also pigeon-hole a recruiter's scope. Screening, for example, will give you the best candidate by far, but it will be the best one on paper. What technology does not, and cannot, account for is personality and company culture fit. While these two aspects aren't things that can be measured or certified with a degree, they are just as, if not more, important than the others. 
Assessing the cultural fit, the dynamic of the candidate and the company, can tell any recruiter if and how successful that person will be, should they get the job. Automation and screening could likely skip over a person that would be a great fit at a company if they are missing even just one keyword.
Automation can be a great thing for a business, but it also has its disadvantages. It is important to be mindful of these when considering implementing or using a new system. Even for companies that already use one or a number of these technologies, awareness and mindfulness of the challenges is key to successful recruiting. 
Biz Latin Hub can help you with hiring and recruitment
At Biz Latin Hub, we provide integrated market entry and back-office services throughout Latin America and the Caribbean, with offices in over a dozen other major cities in the region. We also have trusted partners in many other markets.
Our unrivaled reach means we are ideally placed to support multi-jurisdiction market entries and cross border operations.
As well as knowledge about hiring and recruitment, our portfolio of services includes
hiring & PEO
, accounting & taxation, company formation, bank account opening, and corporate legal services.
Contact us
today to find out more about how we can assist you in finding top talent, or otherwise do business in Latin America and the Caribbean. If this article on hiring and recruitment was of interest to you,
check out the rest of our coverage
of the region. Or read
about
our team
and expert authors.
The information provided here within should not be construed as formal guidance or advice. Please consult a professional for your specific situation. Information provided is for informative purposes only and may not capture all pertinent laws, standards, and best practices. The regulatory landscape is continually evolving; information mentioned may be outdated and/or could undergo changes. The interpretations presented are not official. Some sections are based on the interpretations or views of relevant authorities, but we cannot ensure that these perspectives will be supported in all professional settings.