Nossos Serviços de Contratação e PEO Internacionais
Oferecemos soluções personalizadas de recrutamento e contratação para apoiar sua expansão global. Confie em nossa equipe local de especialistas para entender suas necessidades de negócios e oferecer soluções personalizadas de PEO ou de configuração de entidades que atendam às suas necessidades de contratação.
Funcionários
Onboarding de
Professional Employer
Organization (PEO)
Employer of
Record (EOR)
Trabalhista
Lei
Saiba mais sobre nossa contratação e serviços internacionais de PEO e como podemos ajudá-lo a navegar pelas complexidades jurídicas dos mercados locais na América Latina ao contratar pessoal para a expansão de seus negócios.
Professional Employer Organization (PEO)
A prestação de serviços PEO através da terceirização de recursos humanos para empresas clientes usando uma relação de co-emprego.
Prestar serviços de empregador registrado (EOR) por meio da contratação, pagamento e garantia da conformidade legal dos funcionários em nome de uma empresa cliente.
Onboarding de Funcionários
A integração de um novo funcionário é o processo de integração de um novo funcionário em uma empresa. Esse processo envolve a elaboração do contrato de trabalho, registro de benefícios trabalhistas e inclusão na folha de pagamento da empresa.
Apoio jurídico para garantir a conformidade com as leis trabalhistas locais, incluindo estruturação de contratos de trabalho, conformidade com as leis e regulamentos locais, gestão de casos e suporte para separações de funcionários.
Quanto custa um funcionário na América Latina?
Use our payroll calculator to find out.
País:
Moeda:
Monthly Income:

USD

Employer calculation

Base Employee Salary:
Per Month
Per Year

COP

COP

Employee Legal Benefits:
Per Month
Per Year

COP

COP

Total Cost of the Employee:
Per Month
Per Year

COP

COP

Employee calculation

Base Employee Salary:
Per Month
Per Year

COP

COP

Mandatory Deductions:
Per Month
Per Year

COP

COP

Total Cash in Hand Received:
Per Month
Per Year

COP

COP

Key employment laws

Vacation days:
Public Holidays:
15 per year
19 days
Max. duration of employee probation
Up to 3 months
Redundancy/termination cost
COP $0.00 (within 12 months)
Country's minimum salary
COP $877,802.00 per month

A folha de pagamento de 2020 e o calculador de custo total do funcionário e outras informações fornecidas aqui são de uso geral apenas e as diferenças se aplicarão dependendo das circunstâncias individuais, como tal, os resultados devem ser usados apenas como um guia e orientação especializada deve ser procurada por contatando a equipe do Biz Latin Hub.
What are your options when hiring new employees?
Through a local legal entity
We offer a tailored solution for setting up your local legal entity. Once this legal entity is setup, you will have full power to hire, employ and manage local staff.
For those companies who do not wish to setup and maintain a local entity, we offer a PEO solution which allows you to hire local staff without the administrative and HR burden.
What is an International PEO?
An international PEO or Professional Employer Organization is a global employment solution that enables companies to hire employees fast, efficiently and without the requirement to establish a local legal entity.
Whereby, Biz Latin Hub will contract the employees on your behalf, and will become their legal Employer of Record, allowing you to focus on managing and growing your business.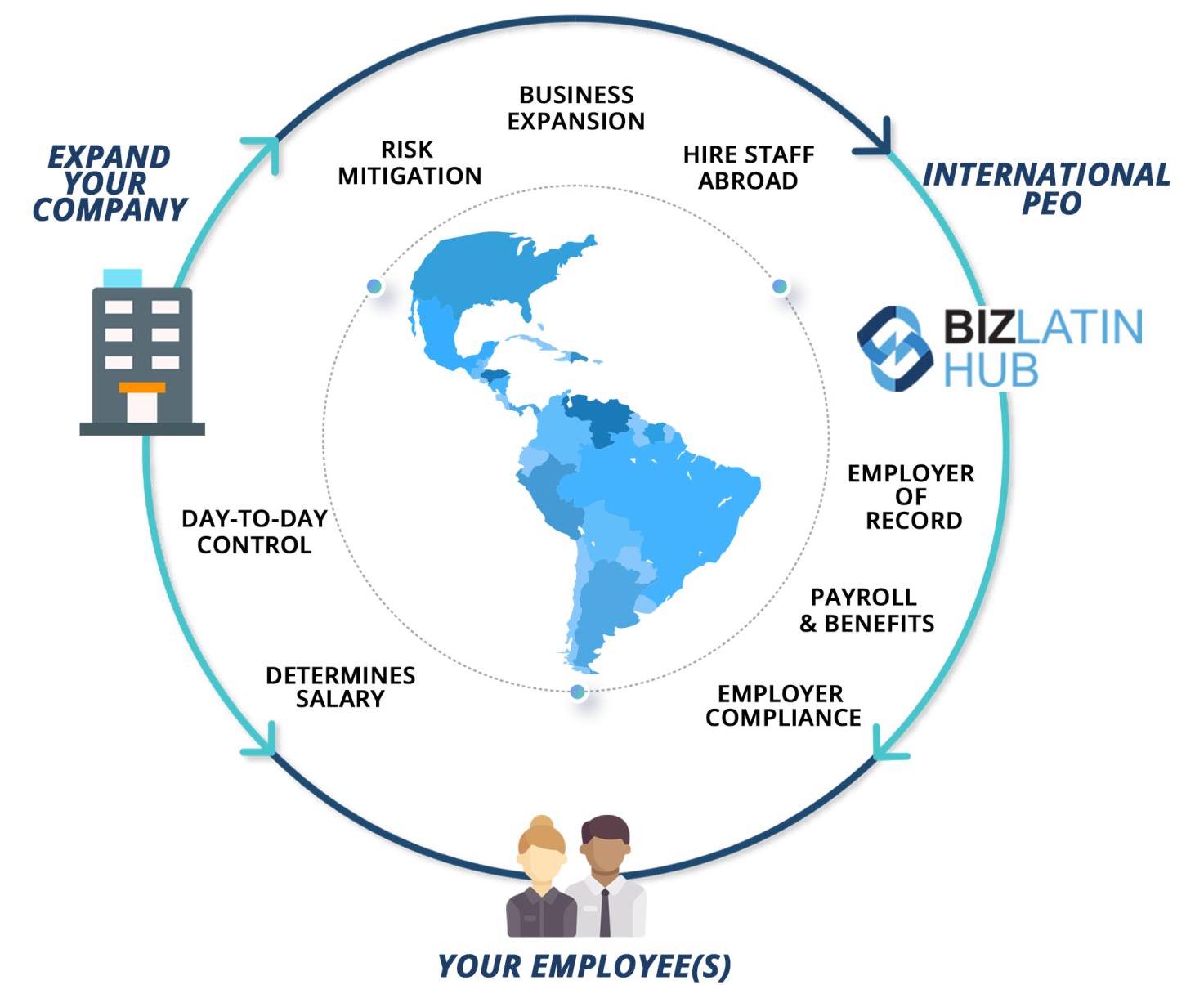 Are you ready to start hiring new employees for your business expansion?
Clique no país de seu interesse para saber mais:
Check some commonly questions about an international Professional Employer Organization (PEO) and how Biz Latin Hub can help.
What is a Professional Employer Organization?
PEO is a service in which a company based in a particular territory employs local staff on behalf of another company that does not have a legal presence in that territory. Sometimes they are known as a PEO Payroll Company.
Is an Employer of Record different to a Professional Employer Organization?
EOR and PEO are alternative terms for the same service, which encompass both recruitment and payroll outsourcing.
What type of companies is a Professional Employer Organization suitable for?
PEO services are suited to companies that are looking to hire staff to support commercial activities in a territory where they do not have a legal presence. That could be on a temporary basis, so that their business can become productive while going through the process of local incorporation. Or it can be because the company simply wants to avoid having to establish a legal entity. This is particularly true among clients who are looking to hire a small number of specialist staff, or staff for the likes of sales or representation.
Why would I use an Employer of Record?
The advantage of using an EOR is the timeframe in which you can get to work, because by allowing you to hire staff quickly without having to create a legal entity, the process only takes as long as the search to find your ideal personnel.
How does hiring through a Professional Employer Organization work?
The PEO firm hires your selected candidate through their local legal entity, which will then process that worker's payment on your behalf, meaning your need to engage in that territory is effectively minimized to letting the PEO know when you need them to hire or fire new employees.
Can BLH help me find the right person to hire?
Absolutely. We have experienced recruiters based across Latin America who have helped many clients find their ideal staff. It normally takes around two to four weeks to find a candidate with a specialized profile.
For entry level positions, we would generally expect to hire your candidate within a week of being assigned as your Professional Employer Organization.
What is the cost of hiring an Employer of Record?
For EOR services we simply charge a monthly service fee per employee, plus reimbursement of the total cost of the employee.
Who is responsible for payment of employee salaries and taxes?
While the client is responsible for providing the funds to cover payroll, employment related benefits and payroll taxes in full, as your PEO firm, we would administer the payment of wages to employees, as well as payment of employment related benefits and applicable taxes.
Who is responsible for compliance with employment laws and regulations?
Ultimately the responsibility for the employees is that of the Client, however, we provide comprehensive guidance regarding employment laws and regulations as part of our PEO / EOR service package.
O QUE FAZ O BIZ LATIN HUB DIFERENTE?
Podemos fornecer a você o back office completo, totalmente integrado e personalizado, solução PEO e incorporação de entidades
Sua necessidade = Nosso foco
Sabemos que um tamanho não serve para todos - trabalharemos com você para entender suas necessidades de negócios e para fornecer uma entrada de mercado personalizada e solução de back office
Globalmente Minded + Local Expertise
Confie em nossa equipe local de advogados e contadores para estabelecer seu negócio, formar sua entidade legal, contratar funcionários e conformidade de entidade legal
Comunicação Internacional
Inglês, espanhol ou português - Nossa equipe local e internacional de contadores e advogados pode oferecer suporte em vários idiomas
Podemos oferecer suporte a todas as suas necessidades de back-office globalmente